The Ledger Stax, a compact cold storage gadget designed for cryptocurrencies, mirrors the size of a credit card. Crafted from a combination of plastic and metal, this device is engineered to sync seamlessly with Bluetooth-enabled mobile devices and features integrated magnets. Noteworthy is its Qi wireless charging functionality, coupled with an extended battery life. In addition to its primary function as a standard cold storage unit, the Ledger Stax is also equipped to oversee and manage NFT collections.
Distinctively, users have the option to personalize their lock screens by incorporating a custom NFT. Sporting a Kindle-style E-Ink display, the Ledger Stax focuses on delivering a unique visual experience. Its core objective revolves around furnishing purchasers with a dependable means of safeguarding their Bitcoin holdings.
Who should buy it?
Target Audience: Ledger Stax caters to a broad audience, with a primary focus on meeting the needs of novice cryptocurrency traders. The user-friendly design of the Ledger is specifically tailored to simplify the storage of digital assets, ensuring a secure and straightforward experience for those new to the crypto sphere. However, its accessibility extends to seasoned veterans, making it a versatile choice for users at various levels of expertise.
User-Friendly Interface: The Ledger Stax boasts a user-friendly touchscreen and an intuitive user interface, enhancing its appeal to individuals seeking a straightforward and easily navigable crypto storage solution. The device's dedicated setup guide streamlines the onboarding process, eliminating the complexities often associated with other hardware wallets.
Customer Testimonials: Endorsements from satisfied buyers underscore the effectiveness of the Ledger Stax. Positive feedback highlights its ease of use, reinforcing its suitability for both beginners and experienced cryptocurrency enthusiasts. Users appreciate the simplicity and efficiency offered by the device's design, further solidifying its positive reputation in the market.
Drawbacks: However, a significant drawback of the Ledger Stax is its comparatively high price point. Priced at $279, it stands $130 above the Ledger Nano X and $200 beyond the Ledger Nano S Plus, positioning it as a premium option in the market. Additionally, some users find its elaborate design to be a potential inconvenience, as it deviates from the discreet storage practices typical of many crypto investors. The forthcoming protective cases from Ledger aim to address this concern, albeit at an additional cost.
Global Availability: Geographically, Ledger Stax ensures widespread availability, with the manufacturer's website stating that the product is accessible in over 165 countries. This global reach emphasizes Ledger's commitment to making its innovative crypto storage solutions accessible to users on a worldwide scale.
Ledger Stax Review: Outstanding Features & Advantages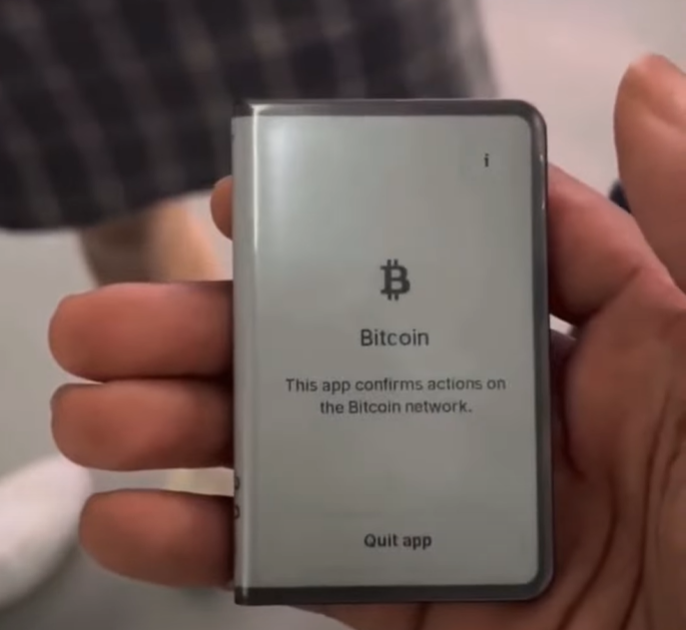 Cryptocurrency Support: The Ledger Stax, a versatile hardware wallet, stands out for its capacity to manage and control over 1000 cryptocurrencies. This includes popular options like Bitcoin, Ethereum, Solana, Cardano, and various NFTs based on Ethereum and Polygon blockchains. The Ledger Live software serves as a centralized hub for handling these assets, and users can expand the range further by integrating third-party wallets, accommodating over 5000 coins and tokens. This comprehensive support, combined with user-friendly features, positions the Ledger Stax as an exceptional choice for secure hardware wallet solutions.
Touchscreen Technology: In a groundbreaking move, the Ledger Stax introduces a touchscreen interface for device navigation and transaction signing, a first for Ledger hardware wallets. The larger screen enhances usability and provides a clearer view of transaction details, marking a significant improvement over traditional hardware wallets that rely on physical buttons. This integration of touchscreen technology elevates the overall user experience, offering a more intuitive and efficient means of interaction.
Wireless Charging Convenience: Equipped with Qi wireless charging capability, akin to major tech brands like Samsung and Apple, the Ledger Stax introduces a level of convenience rarely seen in hardware wallets. This feature allows users to charge the device without the need for cables or plugs, enhancing portability. Compatible with a variety of wireless charging pads, the Ledger Stax becomes an exceptionally convenient and portable option for managing cryptocurrency on the go.
Personalized Home Screen with NFTs: Adding a unique touch to user customization, the Ledger Stax allows individuals to use NFTs as images for their device's locked home screen. This personalization option enables users to showcase their favorite digital art and collectibles, creating a distinctive and visually appealing interface. Whether displaying rare artwork, unique collectibles, or memorable digital moments, this feature transforms the Ledger Stax into a personalized expression of the user's interests.
Extended Battery Life: A standout feature of the Ledger Stax is its internal battery with an extended lifespan, setting it apart from many other hardware wallets. While some devices require frequent recharging, the Ledger Stax's battery can endure for weeks to months, depending on usage. This prolonged battery life not only ensures uninterrupted use but also caters to the needs of frequent travelers who may not have consistent access to power sources.
Clear Signing for Enhanced Security: The Ledger Stax emphasizes clear signing as a crucial security measure to mitigate risks associated with hacks and phishing attacks, particularly in dealings involving smart contracts and assets. Utilizing the device and a compatible Dapp, such as the Ledger Live app, for transaction signing enables users to engage in a straightforward signing process with the added benefit of verifying transaction details. This extra layer of verification empowers users to make informed decisions and steer clear of potential scams.
Bluetooth Connectivity for On-the-Go Management: Similar to the Ledger Nano X, the Ledger Stax offers Bluetooth connectivity, enabling wireless usage with the mobile version of Ledger Live on iOS or Android devices. The combination of Bluetooth connectivity and a user-friendly touchscreen interface positions the Ledger Stax as a convenient and secure hardware wallet for managing cryptocurrency while on the move. This wireless capability eliminates the need for cords or cables, adding to the hassle-free experience of cryptocurrency management from virtually anywhere.
Embedded Magnets for Secure Storage: A standout feature of the Ledger Stax is its built-in magnet, providing a secure and discreet means of storing the cryptocurrency wallet. The magnetic attachment capability ensures the device remains securely in place, adding an extra layer of security by keeping wallets concealed when not in use. This feature minimizes the risk of misplacing the device and offers additional benefits such as space optimization on desks. The Ledger Stax's magnetic feature is particularly beneficial for travelers, allowing easy attachment to metal surfaces and providing a compact, portable solution for cryptocurrency storage.
Why Choose Ledger Stax and How to Set It Up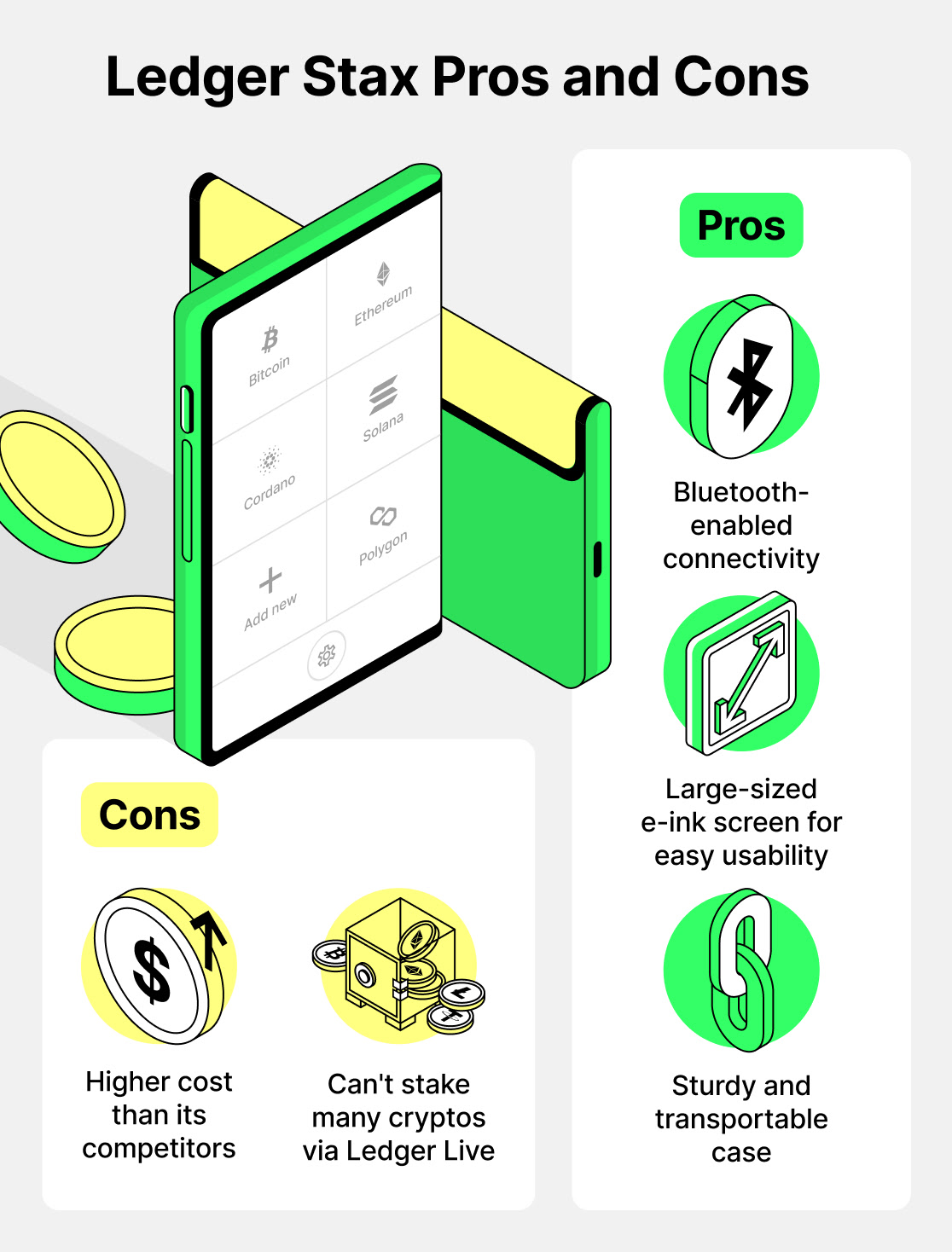 Diverse Coin Support: Ledger Stax stands out as an excellent choice due to its extensive coin support. When used in conjunction with its native software, Ledger Live, it allows users to manage over 500 coins and tokens. Notably, the Ledger Stax can be integrated with third-party wallets, expanding the spectrum to accommodate over 5,000 coins, tokens, and NFTs across multiple blockchains. This versatility positions the Ledger Stax as one of the most adaptable hardware wallets in the market.
NFT Management: For those immersed in the NFT space, the Ledger Stax serves as a secure solution for managing collections. Supporting Ethereum and Polygon-based NFTs through Ledger Live and providing compatibility with third-party wallets for NFTs on other blockchains, this hardware wallet ensures a comprehensive approach to digital asset management. Its advanced security features make it particularly appealing to frequent NFT traders.
Sleek and Innovative Design: Beyond its functional features, the Ledger Stax captivates users with its sleek design, a creation by Tony Fadell, the visionary behind the iPod. The hardware wallet boasts an e-ink display that elegantly wraps around the spine, covering the entire front. With a 3.7-inch size and a resolution of 672x400px, capable of displaying 16 shades of gray, the Ledger Stax combines aesthetic appeal with cutting-edge technology. Its slim design, equivalent to the thickness of five credit cards, sets it apart as a stylish and practical device for managing cryptocurrencies.
Top-notch Security: Security is paramount for cryptocurrency enthusiasts, and the Ledger Stax prioritizes this aspect with a Secure Element chip. This chip ensures protection against potential hacks, and the hardware wallet has earned a Common Criteria (CC) EAL 5+ certification, meeting international information technology security evaluation standards. This certification, recognized globally for banking cards and state requirements, attests to the Ledger Stax's highest level of security in managing digital assets.
Simple Setup Process: Setting up the Ledger Stax is a straightforward process:
Unboxing: Ensure all components are present, including the Ledger Stax, USB-C to USB-C cable, recovery sheet, and Ledger Stax guide.
Download Ledger Live: Visit Ledger's website to download Ledger Live, the software for managing crypto assets.
Connect to Computer/Device: Use the USB-C cable to connect the Ledger Stax to your computer or mobile device.
Follow App Prompts: Navigate through the Ledger Live app prompts to create a new account or restore an existing one.
Set PIN Code: Establish a PIN code for Ledger Stax and securely note down your recovery phrase.
Install Crypto Apps: Utilize the Ledger Live app to install the desired cryptocurrency apps, enabling seamless management on Ledger Stax.
By following these steps, users can efficiently set up their Ledger Stax and begin securely managing their cryptocurrency assets. The straightforward process ensures accessibility for users at all levels of expertise.