Best Crypto Apps in November 2023
Unlocking the world of cryptocurrencies has become an increasingly essential endeavor for both seasoned investors and newcomers alike. As digital currencies continue to gain momentum, they offer unparalleled opportunities and potential for financial growth. The convenience of accessing these digital assets on the go has become a significant driving force behind the surge in popularity. With the rapid evolution of technology, mobile devices have emerged as powerful gateways to the crypto universe. In this article, we will explore the best crypto apps that provide a seamless and user-friendly experience for managing, trading, and investing in cryptocurrencies right from the palm of your hand.
Table of contents:
What is a crypto App
A crypto app, also known as a cryptocurrency app, is a digital platform designed to facilitate a wide range of activities related to cryptocurrencies. It serves as a user-friendly software application that allows individuals to manage, store, purchase, sell, and trade cryptocurrencies using their smartphones, tablets, or computers.
Key features commonly found in a crypto app include a secure cryptocurrency wallet, enabling users to store their digital assets with unique addresses for each coin. The app allows users to buy and sell cryptocurrencies, facilitating transactions between fiat currencies and digital assets. Additionally, crypto apps often offer trading functionalities, enabling users to exchange one cryptocurrency for another based on real-time market conditions. Users can access live market data, including price charts, trading volumes, and trends, providing them with valuable insights for making informed investment decisions.
Best Crypto Apps for Beginners
Cropty Wallet
Cropty Wallet is a comprehensive crypto wallet designed for effectively managing digital assets. It supports a wide range of tokens, including those operating on ERC20, BEP20, and TRC20 networks, making it beginner-friendly for users seeking easy asset management across different blockchains.
What makes it beginner-friendly:
Supports multiple cryptocurrencies, allowing easy diversification.
Beginner-friendly user interface for storing, buying, selling, and exchanging digital assets.
Unique opportunities for earning interest on cryptocurrencies through loans and deposits.
Weeble
Weeble allows fractional shares, offers advanced technical analysis tools for experienced traders, and provides access to a wide variety of cryptocurrencies. There are no commission fees on investments, and the app also supports options trading.
What makes it beginner-friendly:
No commission fees on investments.
Access to a variety of cryptocurrencies.
Fractional share investing for those with limited funds.
Beginner-friendly options trading with great technical analysis tools.
MooMoo
MooMoo is an investing app known for its comprehensive technical analysis features, making it appealing to traders. While it does not allow trading in cryptocurrencies or fractional shares, it excels in options trading and offers a sign-up bonus of 15 free stocks worth up to $2,000 each.
What makes it beginner-friendly:
Zero commission fees on stock trades.
Rich options trading capabilities with extensive technical analysis tools.
Provides a sign-up bonus of 15 free stocks.
Robinhood
Robinhood is incredibly user-friendly and designed specifically for beginners. It supports trading in cryptocurrencies and fractional shares. However, it has a history of customer service issues and freezing accounts during critical moments, which may be concerning for advanced investors.
What makes it beginner-friendly:
Simple and intuitive interface for beginners.
Zero commission fees on stock trades.
Allows trading in cryptocurrencies and fractional shares.
Key Features of a Great Crypto App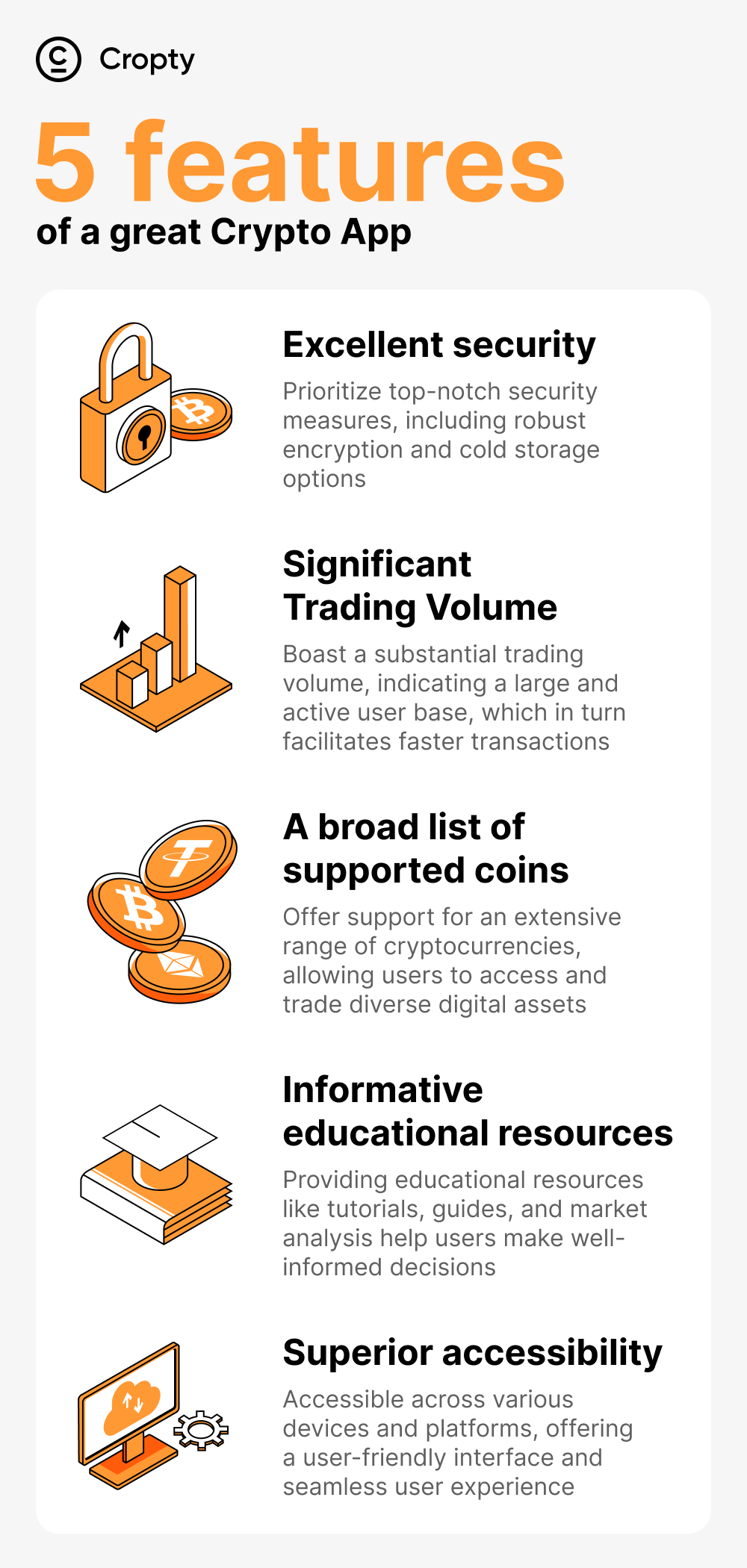 Security: A great crypto app prioritizes robust security measures to protect user funds and data. It should employ encryption protocols, two-factor authentication (2FA), and secure storage of private keys. Regular security audits and bug bounties also demonstrate a commitment to keeping the platform secure.
Trading Volume: High trading volume indicates that the platform is popular and trusted by a large number of users. A great crypto app should have sufficient liquidity, ensuring smooth and efficient trades without significant price slippage.
List of Supported Coins: The diversity of supported cryptocurrencies is crucial for a great crypto app. It should offer a wide range of digital assets, including major cryptocurrencies, popular altcoins, and emerging tokens. A broad selection caters to various investment preferences.
Educational Resources Availability: A great crypto app provides educational resources for users to learn about cryptocurrency trading, investing strategies, and market analysis. These resources may include tutorials, articles, webinars, and market insights to empower users with knowledge.
Accessibility on Different Devices and Platforms: The app's availability on multiple devices and platforms enhances user convenience. A great crypto app should be accessible on mobile devices (iOS and Android), web browsers, and desktop applications. This allows users to trade and manage their assets seamlessly on various devices.
User-Friendly Interface: An intuitive and user-friendly interface is vital for a great crypto app. It should be easy to navigate, with clear sections for buying, selling, and tracking investments. Users, especially beginners, should be able to execute trades and manage their portfolio with ease.
Customer Support: Reliable customer support is crucial for addressing user queries and concerns promptly. A great crypto app should offer responsive customer service through multiple channels, such as email, live chat, and social media.
Best Crypto Apps for Investing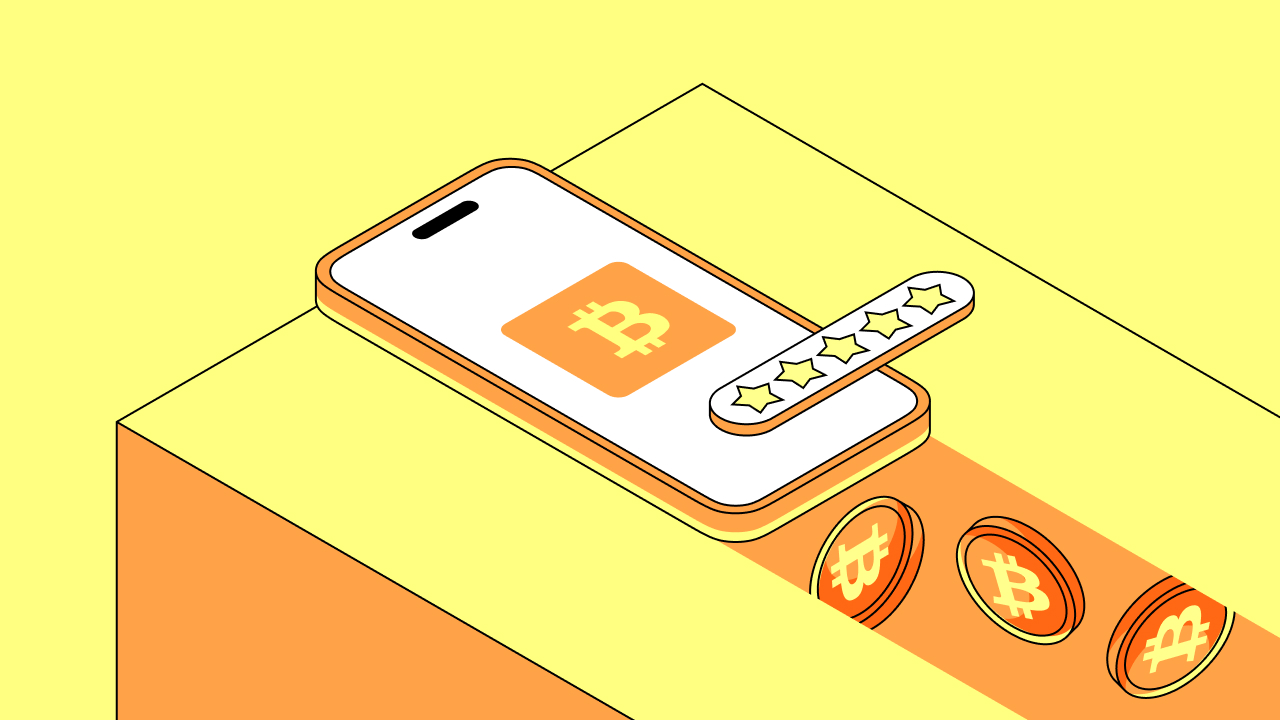 Cropty Wallet
Cropty Wallet is a comprehensive crypto wallet app that allows users to manage various cryptocurrencies. It supports multiple tokens operating on ERC20, BEP20, and TRC20 networks, making it versatile for users with different blockchain assets. Cropty Wallet offers a user-friendly interface for buying, selling, and exchanging digital assets.
Coinbase
Coinbase is an excellent crypto trading app for beginners. It is fully regulated and offers a wide range of cryptocurrencies for investing, trading, and staking. The platform is user-friendly, allowing easy access for buying and selling digital assets.
Coinbase Pro
Coinbase Pro is the advanced version of Coinbase, catering to experienced traders with lower fees and sophisticated charting tools. It provides a professional trading experience for users seeking more in-depth analysis and execution options.
Crypto.com
Crypto.com is a feature-rich crypto exchange platform that offers a vast selection of cryptocurrencies. It also provides a Visa card that allows users to spend their crypto balances like fiat currency. Crypto.com offers numerous benefits, including cashback and perks for cardholders.
Gemini
Gemini is a secure cryptocurrency exchange platform founded by the Winklevoss twins. It offers a user-friendly interface with access to 50+ cryptocurrencies. Gemini provides a reliable and regulated environment for trading digital assets.
BlockFi
BlockFi is a unique platform that allows users to earn compound interest on their crypto holdings. It operates similarly to a savings account, offering up to 8% annual interest on deposited cryptocurrencies. Users can earn passive income by holding their assets in the BlockFi wallet.
Best Crypto Apps Overall
Cryptocurrency has become a significant part of the financial landscape, and having the right tools on your phone can be a game-changer in the crypto market. In this article, we will explore eight of the best crypto apps available, each with its unique features, pros, and cons.
Cropty Wallet App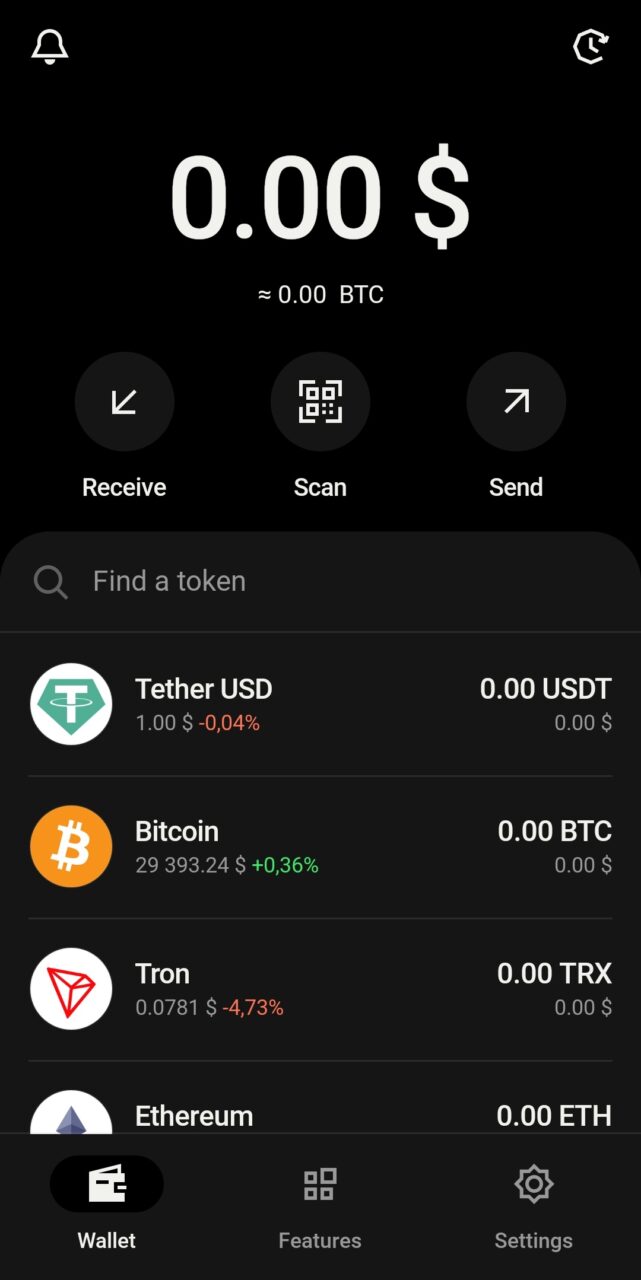 The Cropty Wallet is more than just a standard crypto wallet; it offers a comprehensive solution for effectively managing digital assets. Users can store, buy, sell, and exchange multiple cryptocurrencies like Bitcoin (BTC), Ethereum (ETH), Tether (USDT), BNB, and more. With support for various currencies, the Cropty Wallet allows easy portfolio diversification and centralized management of holdings.
Key Features:
Extensive support for a wide range of tokens, including ERC20, BEP20, and TRC20 networks.
Enables management of assets on Ethereum, Binance Smart Chain, and Tron directly through the app.
Offers crypto loans and deposits with the chance to earn interest on cryptocurrencies.
Pros:
Cons:
Ultimate Crypto Hub: Manage hundreds of tokens in one user-friendly wallet.
Unrivaled Privacy: Enhanced privacy and anonymity options for secure data handling.
Fort Knox Security: Industry-leading security measures with cold storage and full encryption.
Stay Informed & Connected: Receive real-time coin price updates and notifications about market changes.
Lightning-Fast Transactions: Instant On and Zero Downtimes features ensure seamless and quick transactions.
Exceptional Customer Support: 24/7 live customer support available in multiple languages.
Custodial Wallet: Users must trust the platform to safeguard their private keys and funds.
Limited Control over Private Keys: Lack of direct control over private keys may not align with self-custody principles.
Internet Connectivity Requirement: Transactions and access require an internet connection, posing potential limitations in low connectivity situations.
Trust Wallet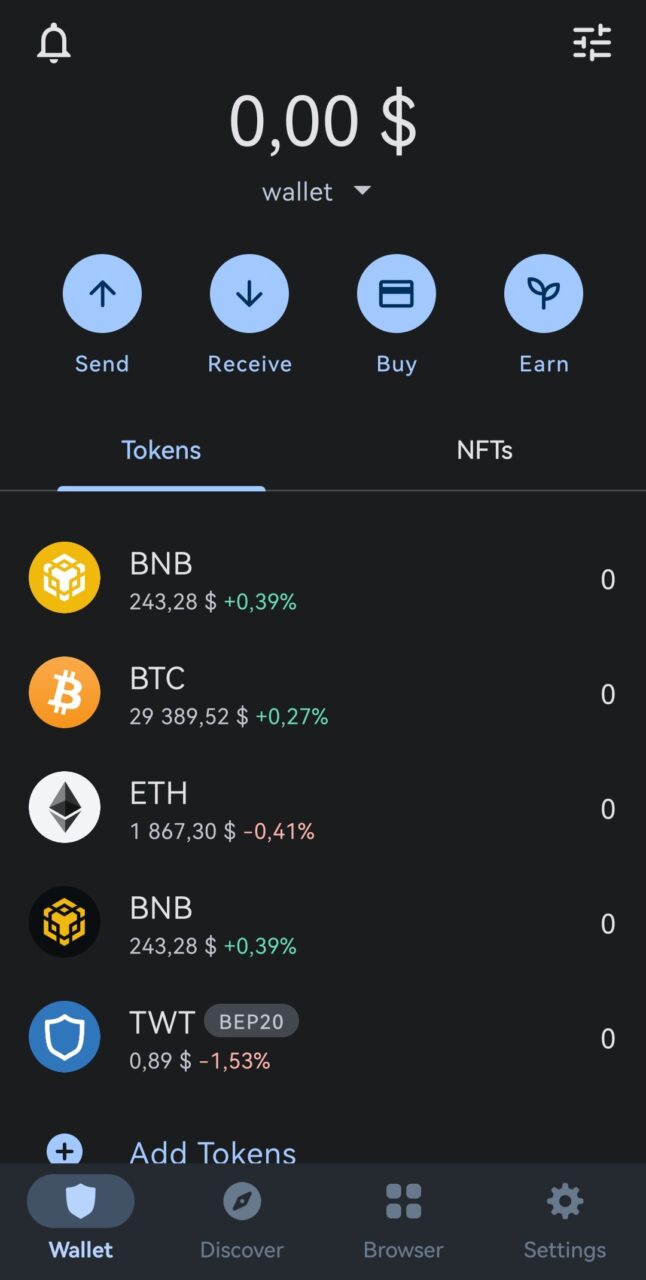 Description: Trust Wallet is a popular mobile wallet app known for its secure and user-friendly platform, catering to various cryptocurrencies. As a non-custodial wallet, it offers an added layer of security by enabling users to retain full control over their private keys.
Key Features:
Robust Security: Trust Wallet has maintained an excellent track record with no history of hacks or exploits, earning the trust of its users.
Open-Source Code: The wallet's open-source nature allows the crypto community to review and verify its security, promoting transparency.
Broad Coin Support: Trust Wallet accommodates major cryptocurrencies and ERC-20 tokens, ensuring users can manage a diverse range of digital assets.
Web 3 Wallet Functionality: Users can seamlessly access decentralized applications (DApps) through the wallet, enhancing their interaction with the blockchain ecosystem.
Pros:
Cons:
High-Security Standards: Users have complete control of their private keys, enhancing the security of their funds and assets.
Wide Coin Support: Trust Wallet's compatibility with various cryptocurrencies, including NFTs, allows for comprehensive asset management.
Integrated with DeFi: The wallet's integration with decentralized exchanges and lending platforms enables users to participate in DeFi activities.
Available on iOS and Android: Trust Wallet caters to both iOS and Android users, making it accessible to a wide audience.
No Fiat On-Ramp: The app lacks a direct fiat on-ramp, meaning users need to acquire cryptocurrencies elsewhere before managing them on the wallet.
Limited Customer Support: Some users have reported challenges in accessing customer support, potentially affecting the resolution of issues.
Ledger Live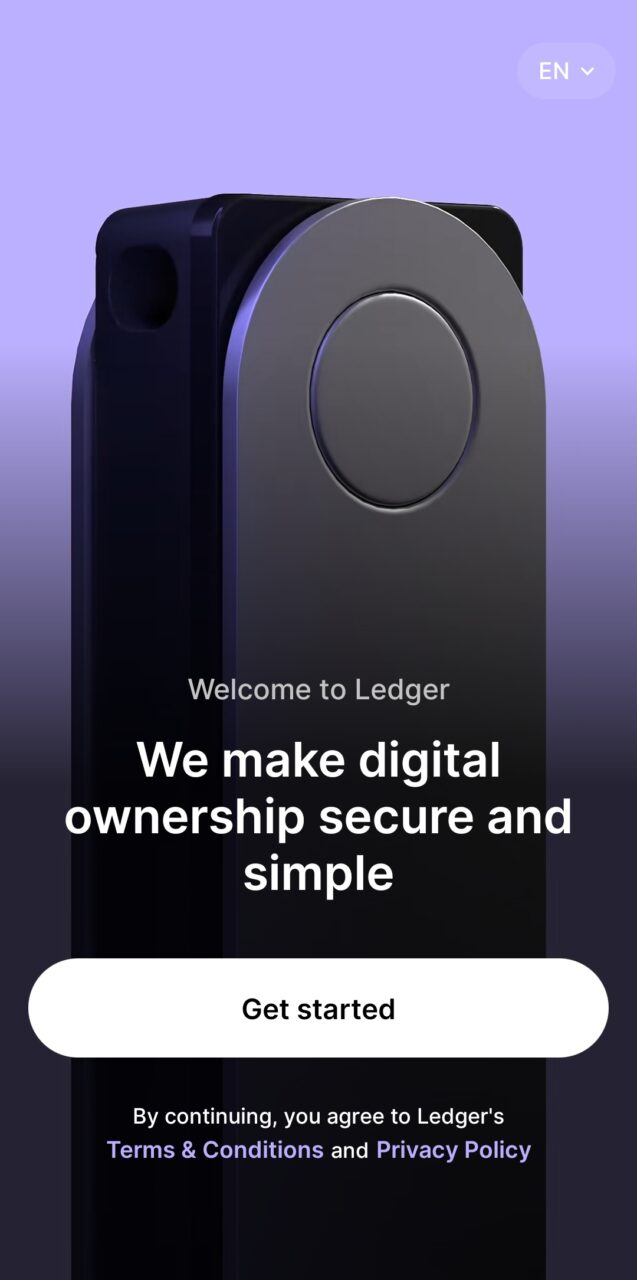 Description: Ledger Live serves as a hardware wallet app designed to work seamlessly with Ledger devices via Bluetooth. Its primary focus is on providing top-notch security by storing private keys on the hardware device, protecting them from external threats.
Key Features:
Hardware Wallet Security: Ledger Live relies on hardware wallet security, employing cold storage for safeguarding private keys.
Extensive Coin Support: The app supports a wide array of cryptocurrencies, encompassing major coins and various altcoins.
Web 3 Wallet Functionality: Users can leverage Web 3 functionality for accessing decentralized applications.
Seamless Integration with Ledger Hardware: Ledger Live effortlessly integrates with Ledger hardware wallets, ensuring a user-friendly experience.
Pros:
Cons:
Highest Level of Security: By storing private keys in the hardware wallet, Ledger Live provides unparalleled security against online threats.
Support for Various Cryptocurrencies: The app caters to a diverse range of cryptocurrencies, ensuring broad asset management possibilities.
User-Friendly Interface: Ledger Live is designed with ease of use in mind, making it accessible even to those new to the world of crypto.
Advanced Trading Functionalities: The app offers advanced trading options, enabling users to manage their assets efficiently.
Requires Purchase of Ledger Hardware: To utilize Ledger Live, users need to invest in a Ledger hardware wallet separately.
Not a Free App: Ledger Live may come with a cost, which some users might find as a drawback.
CoinGecko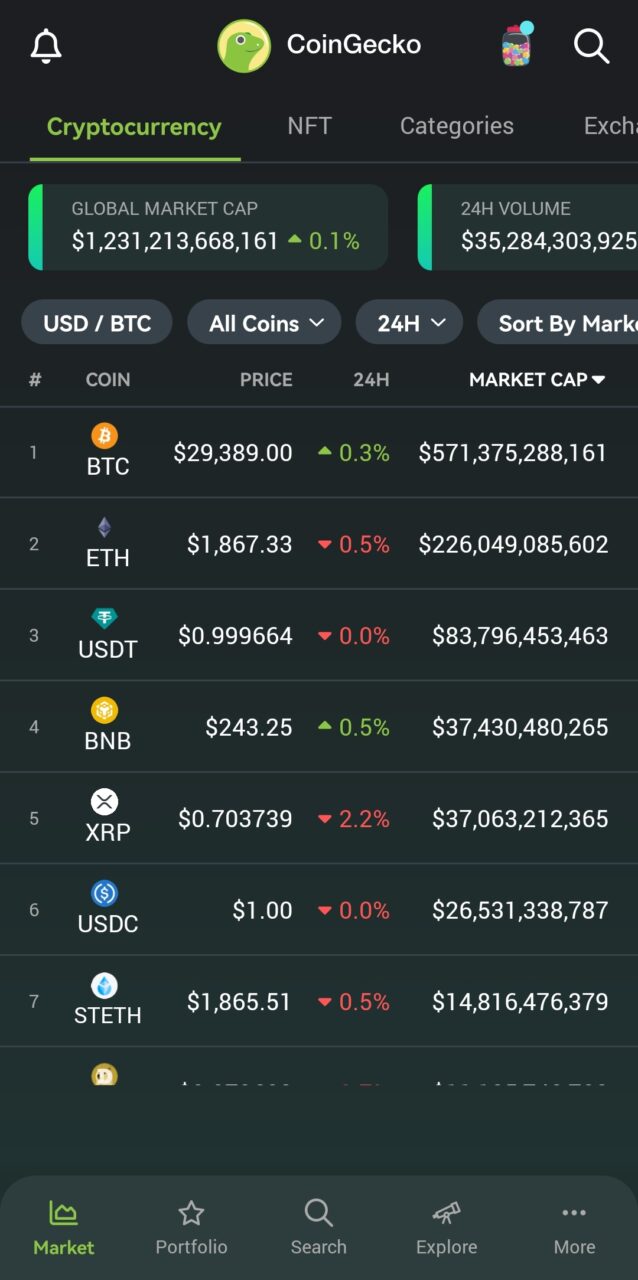 Description: CoinGecko, another renowned cryptocurrency website, offers an app version with features similar to CoinMarketCap. It differentiates itself with a more extensive database of coin information and exchange rankings.
Key Features:
Extensive Coin Information with Additional Data: CoinGecko provides detailed information about various coins, along with additional data to aid in research and analysis.
Portfolio Tracking for Multiple Portfolios: Users can track multiple portfolios simultaneously, making it suitable for managing diversified holdings.
Aggregates News, Podcasts, and Blogs: The app gathers news, podcasts, and blog content from various sources, providing comprehensive market insights.
Pros:
Cons:
Comprehensive Coin Data: CoinGecko's rich data offerings make it a valuable tool for users seeking in-depth information about cryptocurrencies.
User-Friendly Interface: The app's interface is designed to be intuitive and easy to navigate, ensuring a smooth user experience.
Well-Designed Exchange Ranking System: CoinGecko's exchange rankings provide valuable insights for traders and investors.
Account Creation for Some Features: Similar to CoinMarketCap, certain features may require users to create an account, which may be seen as a drawback for some users.
SwissBorg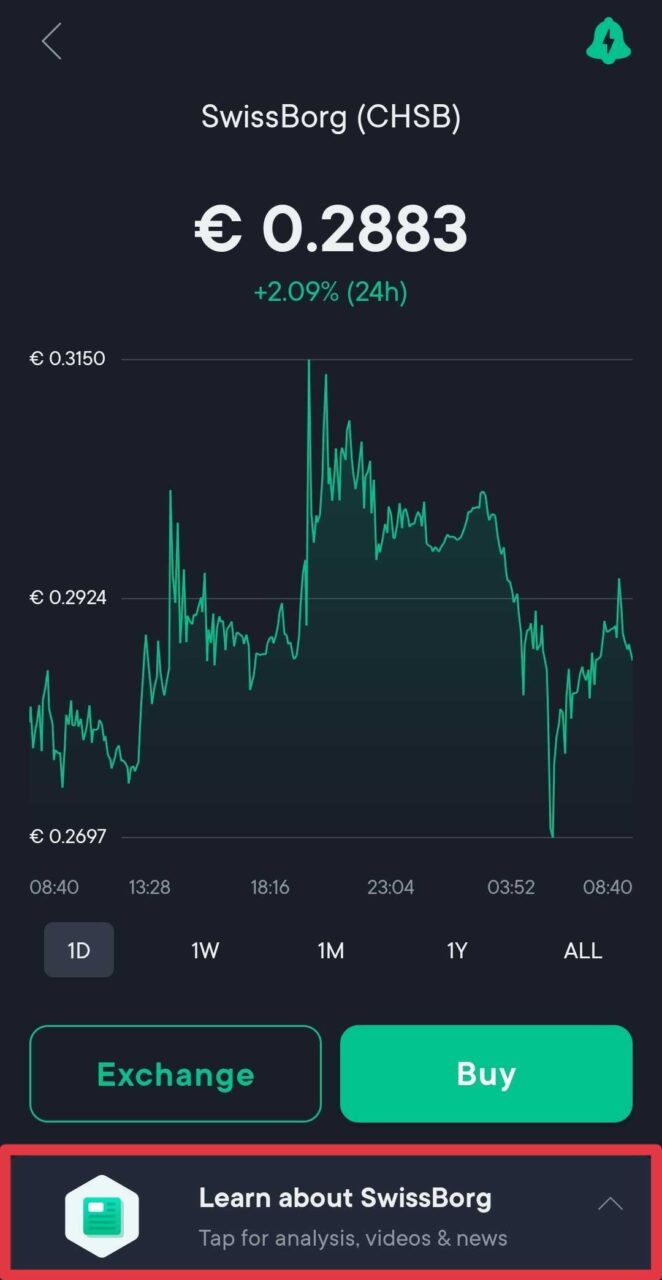 Description: SwissBorg is a European-based exchange app that simplifies cryptocurrency-to-fiat exchanges and vice versa. Its strong banking relationships and quick fund transfer options are among its notable features.
Key Features:
Support for Over 50 Cryptocurrencies: SwissBorg supports a diverse range of cryptocurrencies, offering users numerous trading options.
Multiple Fiat Currency Options: The app facilitates deposits and withdrawals in multiple fiat currencies, accommodating users worldwide.
User-Friendly Interface: SwissBorg's intuitive interface makes it easy for users to navigate and execute transactions.
Pros:
Cons:
Quick and Reliable Fiat On and Off-Ramp: SwissBorg's strong banking relationships enable fast and efficient fiat-to-crypto and crypto-to-fiat conversions.
Supports Multiple Fiat Currencies: The app caters to users from different countries by supporting various fiat currencies for transactions.
User-Friendly Experience: SwissBorg's user-friendly app ensures a smooth and pleasant experience for its users.
Not Available in the United States: The app's services may not be accessible to users in the United States, limiting its global reach.
Limited Features Compared to Other Exchange Apps: While SwissBorg is effective for fiat conversions, it may lack certain features offered by more extensive exchange apps.
Coinbase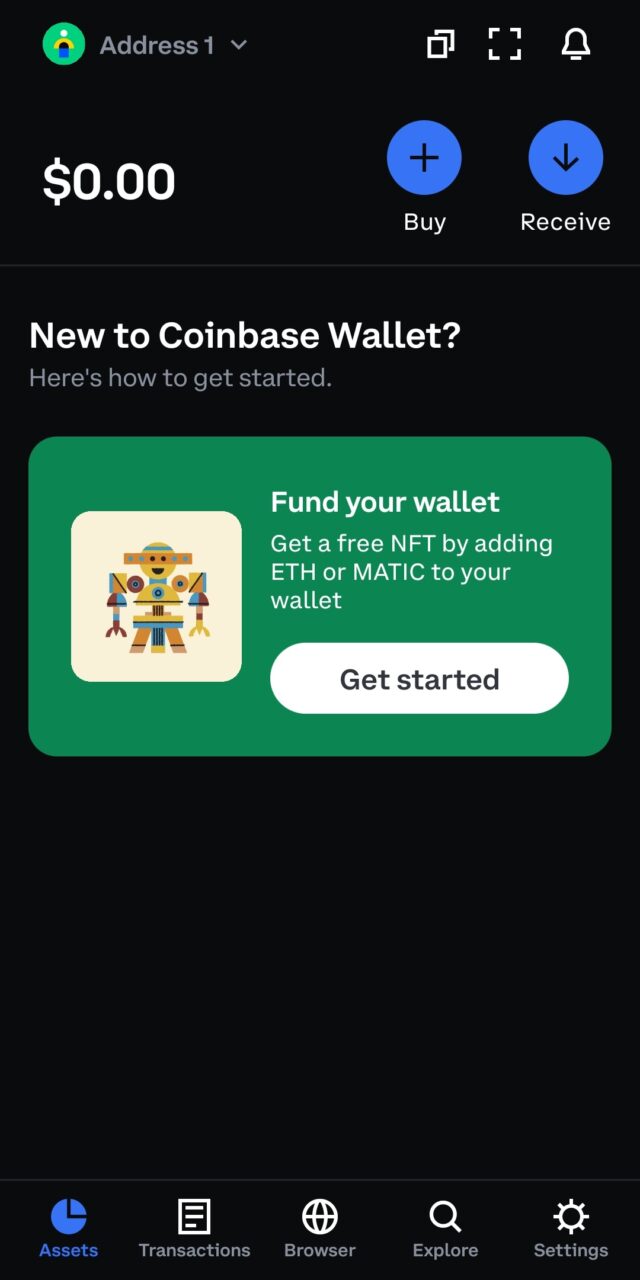 Description: Coinbase is one of the most renowned cryptocurrency exchanges globally, offering a user-friendly mobile app alongside its web platform. It provides a simple and accessible platform for trading and managing various crypto assets.
Key Features:
Support for Over 100 Cryptocurrencies: Coinbase boasts support for a vast array of cryptocurrencies, catering to a broad user base.
Convenient Fiat On and Off-Ramps: The app provides straightforward fiat on and off-ramp options, allowing users to transact easily with traditional currencies.
Advanced Trading Functionality: Coinbase offers advanced trading features for users seeking more sophisticated trading options.
Pros:
Cons:
User-Friendly Interface for Beginners: Coinbase's straightforward interface makes it an excellent choice for users new to the world of cryptocurrency.
Extensive Coin Support: With its wide range of supported cryptocurrencies, Coinbase offers ample choices for investors.
Advanced Trading Options: More experienced users can take advantage of the app's advanced trading functionalities.
Not a Non-Custodial Wallet: Coinbase operates as a custodial wallet, meaning users do not have complete control over their private keys.
Limited Customer Support: Some users have reported experiencing challenges with Coinbase's customer support, affecting issue resolution.
What is a Crypto Exchange
Cryptocurrency exchanges are online platforms where individuals can buy and sell cryptocurrencies, such as Bitcoin, Ethereum, and others. These exchanges play a crucial role in facilitating the trading of cryptocurrencies for other assets, which can include fiat currencies (like US dollars, euros, etc.) as well as other digital currencies. Here's an overview of what you've mentioned:
Interest in Cryptocurrency: Cryptocurrency has attracted the attention of both beginners and experienced traders due to its volatile nature. However, it typically appeals more to risk-takers.
Role of Crypto Exchanges: Crypto exchanges serve as intermediaries between buyers and sellers of cryptocurrencies. They make money by charging transaction fees and commissions for facilitating these trades.
Centralized vs. Decentralized Exchanges: Centralized exchanges are usually operated by companies and are more widely accepted globally. They enable trading between fiat and cryptocurrencies. Decentralized exchanges, on the other hand, do not handle fiat currencies and are less common.
How Crypto Exchanges Work: To use a crypto exchange, a user must create an account by providing basic information and completing a Know Your Customer (KYC) process, which includes document verification and biometric verification in some cases. Once the account is set up, the user can deposit funds using various methods like bank transfers, debit cards, credit cards, or UPI (Unified Payments Interface).
Considerations Before Choosing an Exchange: Users should research the exchange's history, credibility, transaction fees, and available features. They should also consider factors like the range of cryptocurrencies offered, security features (such as 2FA and encryption), availability (national or international), and the quality of customer service.
Today's trending