Are Crypto Loans Safe? A Detailed Guide to Crypto Lending
With bank saving accounts, you can earn only 0.04% APY, while crypto lending enjoys up to 15% APR. But are crypto loans safe? What are the best crypto lending services?
The crypto industry has greatly flourished in the past few years as it offers numerous methods of making money. Crypto lending is one such method that allows users to earn interest on their crypto holdings. If you are new to crypto lending, you might be wondering how does crypto lending work? Are crypto loans safe? What are the best crypto lending platforms? Are crypto loans worth it? What are crypto lending risks and many more?
Do not worry. In this guide, we have covered everything you need to know about crypto lending. So, stay focused and keep reading.
What is Crypto Lending?
Crypto lending is a process in which investors earn dividends or interest on a daily, weekly, or monthly basis by lending out their cryptos to borrowers. The interest rates can go up to 17% APY depending on the crypto asset they are lending.
Crypto lending is the best option for investors who do not want to sell their assets but wish to earn extra money with their idle assets. Moreover, investors can also borrow loans in fiat (e.g., USD, EUR, CAD) currency against their crypto assets if they need money and do not want to sell their cryptos.
Crypto lending is available for dozens of cryptocurrencies and stablecoins, such as Bitcoin, Ethereum, Cardano, Litecoin, Binance Coin, USD Coin, True USD, etc. The interest rate on cryptocurrencies is up to 7%, but in the case of stablecoins, it can go up to 17%.
How Does Crypto Lending Work?
Crypto lending involves investors/lenders, borrowers, and a crypto lending platform. The entire lending process is almost the same on every platform.
A crypto lender deposits his cryptos on a crypto exchange to make them available for the lending purpose at a fixed interest rate. A borrower makes a loan request through the platform. He has to stake his cryptos as collateral. Once the platform approves the loan request, funds in the form of fiat or stablecoins are automatically transferred from the lender to the borrower's account through the platform. The lender receives regular interest paid by the borrower.
The value of the collateral is 100% of the loan amount or most of the time, it is always higher, around 150% of the loan amount. A borrower cannot use his staking until he pays back the entire loan. If the borrower fails to repay the loan, the lender/platform can sell the collateral to cover the losses.
The following figure shows the typical crypto lending process.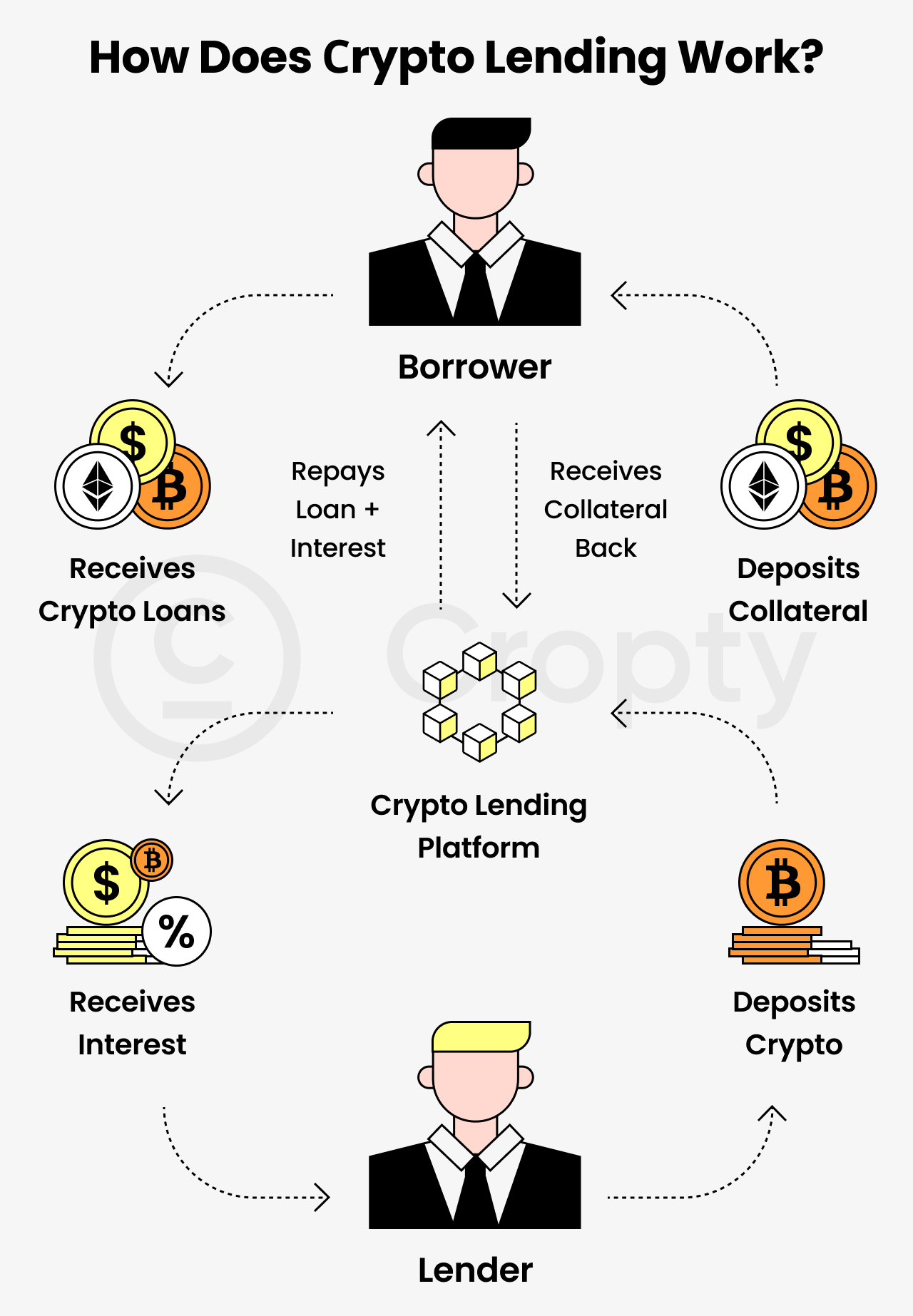 Types of Crypto Loans
Several types of crypto loans are available, such as:
Collateralized crypto loans
Collateralized loans are the most popular type of crypto loan that requires the borrower to deposit cryptocurrency collateral to get the loan.
Most platforms require to deposit of collateral more than the loan value (loan-to-value: LTV) because the interest rate and chances of loss coverage will be lower otherwise.
Uncollateralized crypto loans
Uncollateralized loans are similar to personal loans that require borrowers to fill out a loan application and complete identity verification and credit check to get the loan approved.
These loans have higher risks of loss for lenders because there is no collateral to cover the loss in case of loan default.
Flash loans
As the name suggests, flash loans are instant loans that are borrowed and repaid at the same time (in the same transaction).
These loans are risky and are typically used to avail market arbitrage opportunities, such as buying low in one market and instantly selling high in another. It all happens within one transaction.
Crypto line of credit
These are similar to collateralized loans offered by some platforms. In this type of loan, borrowers can get a loan for a certain percentage of deposited collateral with no set repayment terms.
Interest is paid only on the amount of funds withdrawn.
Best Crypto Lending Platforms
Several crypto lending platforms are operating in the crypto industry but choosing the best crypto lending platform matters because your lending experience entirely depends on it.
So here we have listed a few parameters to consider before choosing a crypto lending platform. Then we have compared the best crypto lending platforms.
Parameters for choosing a crypto lending platform
Interest rate: Different crypto lending platforms offer interest rates between 2% and 17% depending on the crypto and stablecoins. Choose the one with higher interest rates.
Supported Cryptos: Platforms support a range of cryptocurrencies but choosing the right crypto for lending is also important as cryptos are highly volatile. So, check what cryptos a lending platform supports.
Flexibility: Check the lending duration offered and how a platform acts if a borrower fails to repay the loan.
Lockup Period: Choose a platform that does not require investors to lock assets for a certain period to earn interest.
Community feedback: Community reviews will significantly help you choose the right lending platform. Always choose a well-reputed and trustworthy platform.
Comparison of the Best Crypto Lending Platforms
The following is a comparison of the best crypto lending platforms.
| | | | | | | |
| --- | --- | --- | --- | --- | --- | --- |
| | YouHodler | Crypto.com | CoinLoan | Binance | Nexo | AQRU |
| Available for U.S. citizens | No | Yes | Yes | Yes | No | No |
| Minimum Amount | $100 | $250 | $100 | $1 | $10 | $100 |
| Lending Duration | Unlimited | Up to 90 Days | Up to 3 Years | Up to 90 Days | Unlimited | Flexible |
| Number of supported coins | 25 | 35 | 18 | 58 | 40 | 5 |
| Stablecoins Max APR % | 12.7% | 12% | 12.3% | 7% | Above 12% | 12% |
| Cryptos Max APR % | 7% | 6.5% | 7.2% | Variable | 8% | 7% |
| Payout | Weekly | Weekly | 1st Day of Month | Daily | Daily | Daily |
Pros and Cons of Crypto Loans
There are several pros of crypto lending, but it also has some drawbacks; both are as follows.
Pros
High-Interest Rate: With a traditional bank saving account, you can earn only 0.04%, but crypto lending offers a higher interest rate of up to 17%.
No Lockup Period Requirement: Some crypto lending platforms offer high yields with no requirement of locking up cryptos for a specific duration.
Bonus: Many crypto lending platforms offer bonuses in crypto or cash for signing up and making a deposit on the platform.
No credit check: A borrower does not have to go through a credit check to get a loan. So, you can get a crypto loan even if you are unbanked.
Quick Funds: One can receive funds from a crypto loan within a few hours to a maximum within a day.
Cons
No FDIC Insurance: Your crypto assets deposited on the exchange are not insured by the Federal Deposit Insurance Corporation (FDIC), so you have to risk your assets.
Lockup Period: Some platforms require investors to stake assets for a certain period in order to earn interest. During that period, you cannot use your cryptos.
Turn Over Ownership: You will have to transfer ownership of your crypto assets to the company and trust it with your assets. If the company shuts down, you will lose your assets.
Provide more collateral: As a borrower, if the value of collateral drops the loan value, you will have to deposit more collateral. Otherwise, you may lose your cryptos.
Inadequate Insurance: In case of any hacking event, the insurance provided by the platform may be far less than the funds you deposited at the platform.
Risks of Crypto Lending
Whether you are an investor or borrower, crypto lending is risky. The following are a few risks associated with crypto lending.
Margin calls
When a borrower deposits his collateral to get a loan against it, and if the value of deposited collateral drops the loan value, it can trigger a margin call.
When it happens, the borrower has to either deposit more collateral so that he can get back it after paying the loan or the platform will liquidate it to cover the losses.
Illiquidity
When you deposit your funds onto a crypto lending platform for lending purposes, they become illiquid, and you cannot use them. However, some platforms allow investors to withdraw their deposited funds quite early, which will not be the case on other platforms, and you will have to wait a long time to access your funds.
No protection
Crypto lending platforms are not regulated as traditional banks. That's why they do not offer the same protection as banks do. For instance, U.S. banks are insured by FDIC for up to $250,000 per account holder. It means in case of any mishap, and the bank becomes insolvent, FDIC will compensate users' funds up to that limit.
But in crypto lending, there is no such protection for investors, and in case of the platform's insolvency, users will lose their funds.
Smart contract risk
Crypto lending platforms use smart contracts to automate the lending process, such as paying interest, collateral liquidation, etc. Smart contracts are code, with no human control over them.
It means if the smart contract does not work, you cannot rely on anyone, and you alone have to bear the risk, and you may lose your cryptos in the worst case.
Is Crypto Lending Safe?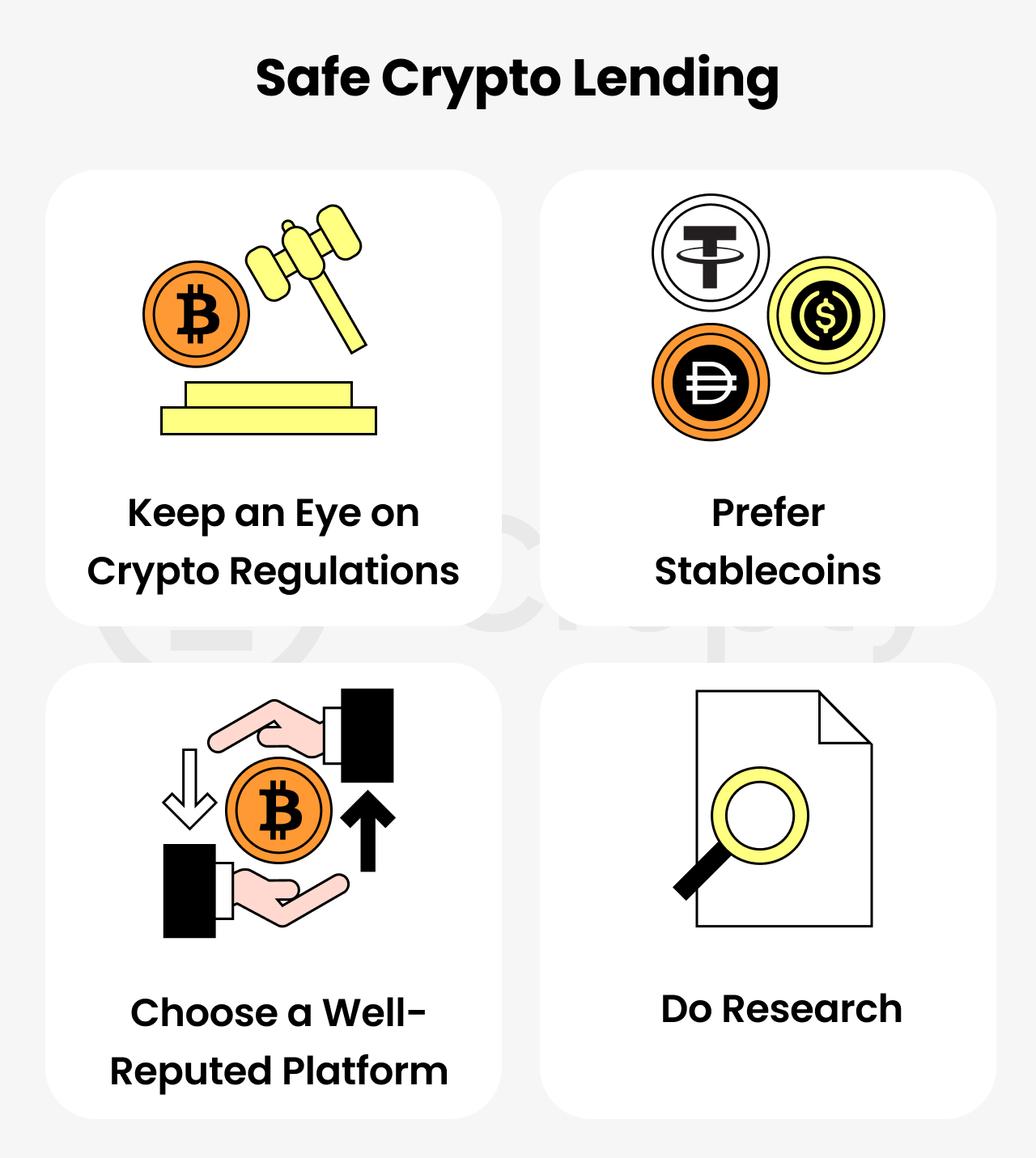 As there are risks associated with crypto lending so we cannot say that crypto lending is completely safe. But there are a few ways; if you adopt them, you can make crypto lending safer for you.
The following are a few rules to minimize the risks and maximize your chances of earning higher interest.
Keep an eye on ever-changing crypto regulations in your area or country. Because if any regulation comes into effect or regulators force any platform to shut down its operations because of any law violation, you may end up losing your funds.
Always choose a well-reputed and well-established crypto lending platform only. Legit platforms work with greater care and specialized providers to ensure the safety of users' funds. Check how a platform works to protect your investment from any catastrophe.
Prefer stablecoins over cryptocurrency for lending and borrowing purposes. Because cryptos are highly volatile, their prices may increase or decrease. If the prices drop, you will not be able to sell your coins. On the other hand, borrowers have to deposit more collateral if the prices rise. Stablecoins are linked with the U.S. dollar or gold, so they have no concern with the volatility of the crypto market.
How to Get a Crypto Loan?
If you want to get a crypto loan, it is easy.
Sign up for a crypto lending platform or connect your wallet to the platform.
Select the collateral to deposit and the amount you want to borrow.
Once the collateral is deposited on the platform, funds will be instantly transferred to your account. The amount of funds you will receive varies, but usually, you will get 50%-90% of your collateral.
Most crypto loans are instantly approved with set lock-up terms via a smart contract.
On the other hand, the process is almost the same if you want to lend a crypto loan. Replace the step of depositing collateral with depositing funds for lending. Interest amounts will be automatically transferred to your account.
Conclusion
Crypto loans are risky, but you can minimize the risks by practicing the rules mentioned in the article. Always choose the best crypto lending platform after thorough research and enjoy high interest rates over your idle assets without actually doing anything.
---
FAQs
Is a crypto loan risky?
Crypto loans are risky because of the risks such as margin calls, unavailability of insurance, and smart contract risks. But if you properly do your homework before investing in it by choosing the right lending platform and crypto coin, you can minimize the risks
Are crypto loans worth it?
Crypto loans allow you to earn passive income on your idle assets. The interest rates are also higher than traditional bank savings accounts. Moreover, crypto loans are a good option if you need money in cash but do not want to sell your crypto. So, overall, crypto loans are worth it.
What happens I you don't pay back a crypto loan?
If you do not pay back your crypto loan, the lending platform will liquidate your collateral to help the lender cover his losses. Or in other words, you will not get back your collateral deposited on the lending platform.
Do I pay taxes on crypto loans?
You do not have to pay any tax on crypto loans, as crypto loans are tax-free. You can save thousands of bucks on your tax return with crypto loans.
Do crypto loans affect credit scores?
Crypto loans do not impact your credit score. Moreover, these loans do not require a credit check. So, you can get a crypto loan even if you are unbanked or do not have a good credit score.
Can I withdraw crypto loans?
Once your crypto loan gets approved and funds get transferred to your account, you can use it in any way, including trading, staking, or simply withdrawing the funds.
What is the best crypto lending platform?
The best crypto lending platforms list includes YouHodler, Crypto.com, CoinLoan, Binance, Nexo, AQRU, Aave, and Compound.
Today's trending