As of January 2023, Bitcoin has fallen nearly 3 times from its all-time high. Such a big drop in the entire crypto market opens up the possibility for its participants to buy crypto 4-5 times cheaper. Thus, when the market starts to rebound, everyone who bought now will be able to lock in a good profit with proper risk management and profit taking.
For more details, we have provided 10 of the most famous and promising cryptocurrencies in India for 2023. Let's start with the fundamental coins and watch the discount to ATH price.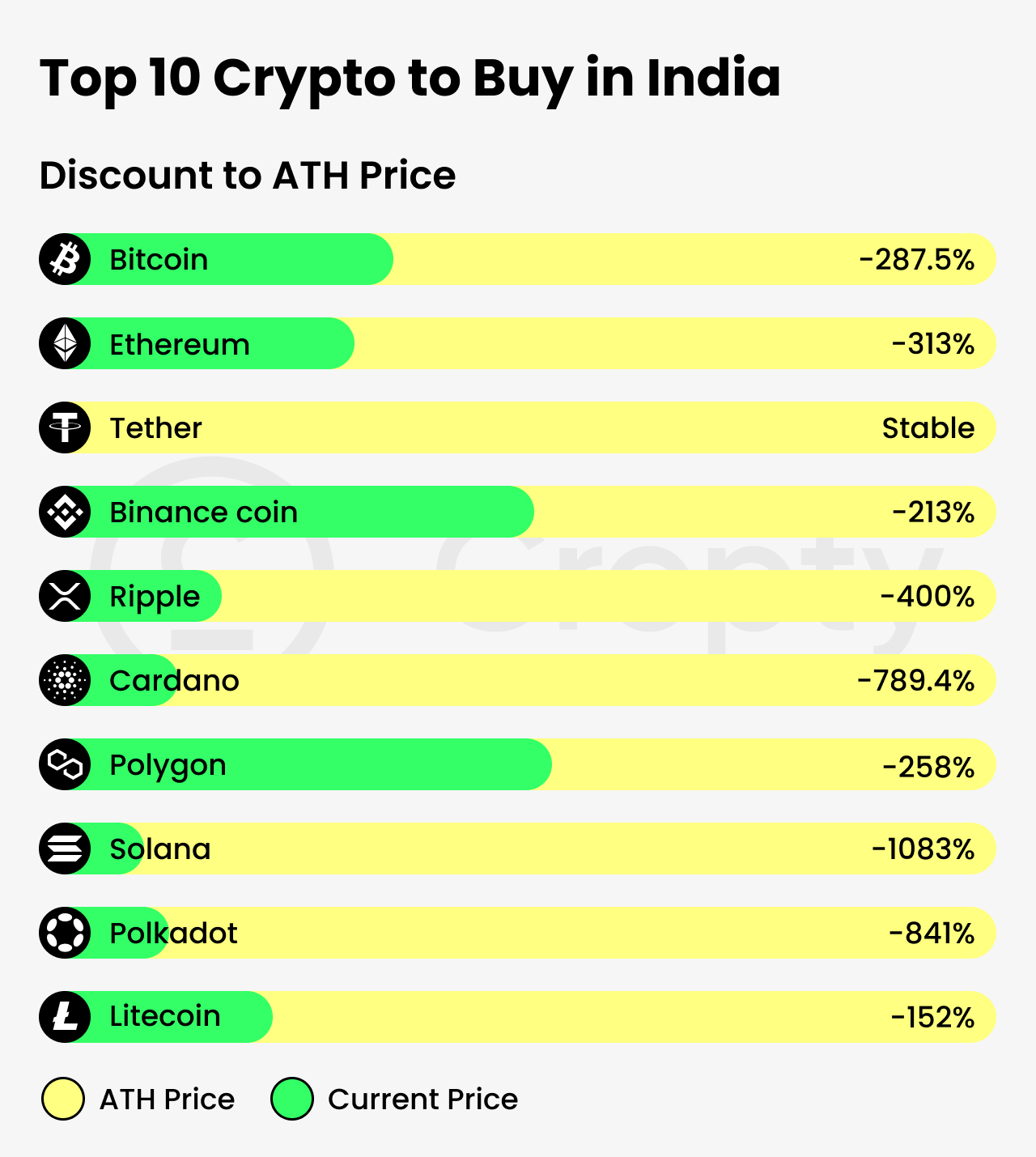 Bitcoin BTC
Market Cap: Over $470B
ATH: $69,000
The Current Price: Over $20,000
Bitcoin is the most famous cryptocurrency in India, which has found its application as a means of payment. Bitcoin has turned the world's financial system upside down; it is the first decentralized peer-to-peer payment network that is managed by its users without a central authority or intermediaries.
Bitcoin transactions are conducted unilaterally, and verified through a public ledger, the blockchain. Transactions are built from blocks that are linked together in a chain that stores transaction information. If the information changes, the chain collapses, so it is impossible for fraudsters to change it. Bitcoin, along with PoW – consensus algorithm technology, provides full performance and security of its asset. Also, Bitcoin has a limited issuance of 21 million coins, which makes it even more valuable.
A large number of people believe in Bitcoin and consider its relevance in our world. Big investors are not afraid to invest in Bitcoin because they see it as a tool that people need in their lives. More and more countries are passing laws to legalize bitcoin, which is good for public opinion and the price of the asset. It is safe to say that Bitcoin is the coming future, the price of which is constantly increasing in the long term.

Ethereum ETH
Market Cap: Over $190B
ATH: $4,600
The Current Price: Over $1,500
Ethereum is the best-known decentralized developer platform based on blockchain technology. Ethereum allows developers to create and deploy decentralized applications based on blockchain smart contracts.
Technically, anyone can access the Ethereum network if they have a personal computer or a smartphone. Ethereum runs on smart contracts, an algorithm that provides the ability to conduct transactions in an automated way, with the parties fulfilling the terms of the contract directly, without intermediaries.
One of the most successful Ethereum solutions is DeFi (decentralized finance) is an ecosystem of financial instruments built on blockchain. DeFi makes it possible to obtain financial services for people who, for example, do not have access to classical banking products. DeFi operates without intermediaries, so the cost of services is lower, plus the high decentralization of assets provides a significant advantage over other financial systems.
Ethereum is an advanced blockchain technology that opens up a lot of possibilities for users and developers. Ethereum solves a lot of problems connected with convenience, speed and security of transactions. The Ethereum team is constantly expanding its application capabilities, which ensures its growing future.

Tether USDT
Market Сap: Over $67B
Stable Price: $1
Tether (USDT) is a stablecoin (stable currency), which is pegged to fiat U.S. dollar, namely secured by U.S. Treasury bills and other securities. In cases of unwanted market volatility, USDT provides a quick and convenient way to convert assets into a stable currency without leaving the blockchain. Tether ranks 3rd in the ranking of cryptocurrencies by capitalization in the world.
Unlike other stablecoins, Tether provides the highest possible peg to the U.S. dollar and is minimally backed by cryptocurrency. USDT is the most popular and safest stablecoin in the world, USDT is an integral part of investors and should definitely be in your investment portfolio.

Binance Coin BNB
Market Cap: Over $48B
ATH: $650
The Current Price: Over $300
Binance coin (BNB) is a cryptocurrency, and a native token of the world's most famous exchange Binance. BNB provides the ability to pay trading fees on the Binance exchange and its Binance Smart Chain network.
BNB was created in 2017 and is one of the fastest growing cryptocurrencies in the world. The huge demand for this coin is that the development of the BNB ecosystem has entailed the introduction of a wide range of new uses, in addition to the payment of trading commissions.
BNB opens up the possibility of stable and speculative profits on the Binance exchange. With BNB you can pay for goods, services, book flights, hotels, and much more. Despite the state of the market, BNB maintains its position among the leading cryptocurrencies in the world.
Binance team is constantly working on improving the network, and the introduction of new features in BNB coins, which positively affects the rate of the coin.

Ripple XRP
Market Cap: Over $20B
ATH: $3
The Current Price: $0.4
XRP is a cryptocurrency that provides global money transfers. It is a fast, secure and scalable digital asset that can be sent over the Internet as easily as an email.
Ripple was created to compete with the traditional financial system. It provides the ability to send funds with very cheap fees and without any intermediate correspondent accounts, thus attracting the potential interest of banks and retail blockchain users.
XRP's operating technology allows it to process 1,500 transactions per second, in turn bitcoin has about 7 transactions per second. Thus, more and more crypto-traders are using XRP as one of the best means of transfer and speculation, which shows good growth potential in the long term.

Cardano ADA
Market Cap: Over $13B
ATH: $3
The Current Price: $0.37
Cardano (ADA) is a cryptocurrency that is fully decentralized and open source. Cardano was created as a DeFi-protocol and is aimed at introducing it into the financial system of the poorest regions of the world. Hoskinson (the creator of Cardano) believes that his project will improve the lives of billions of people.
Like Ethereum, Cardano is based on smart contracts, but with more attractive features. Unlike Ethereum, Cardano has lower transaction fees and higher throughput. Thus, ADA acts as a competitor to Ethereum, Cardano fans believe that over time ADA will displace ETH.
Due to Cardano's excellent concept, the coin is likely to maintain its popularity and can easily compete with Ethereum and other cryptocurrencies with similar technologies.

Polygon MATIC
Market Cap: Over $10B
ATH: $2.7
The Current Price: $1
Polygon (MATIC) is a blockchain platform and Ethereum token that serves the purpose of scaling the ETH network. MATIC's mission is to provide faster and cheaper transactions than ETH, using parallel operation from the main blockchain.
That way, users can send from the Ethereum blockchain to the Polygon blockchain making transactions in it, and then transfer back to Ethereum, spending less on fees. The Polygon blockchain is known for its huge throughput, allowing up to 65,000 transactions per second. This blockchain technology has attracted more than 50 decentralized applications.
You can also use MATIC coin to pay commissions and keep the blockchain running with consensus proof-of-stake technology, earning passive income from invested coins. If the team works on the blockchain features, Polygon has a good future ahead of it. The development of a large number of decentralized applications, shows the promise of the network and good performance in the market.

Solana SOL
Market Cap: Over $9B
ATH: $260
The Current Price: $23
Solana is a blockchain protocol that allows you to create decentralized applications. It is also called a direct competitor to Ethereum and also works on smart contracts. SOL features a hybrid mining algorithm that works with PoH (Proof-of-History) and PoS (Proof-of-Ownership) to perform up to 50,000 transactions per second.
This innovative consensus mechanism has attracted more investors and small traders to use blockchain. The sheer speed of blockchain has also attracted institutional interest, which allows blockchain to scale and evolve.
SOL experienced a huge rise in price in 2021, after which it was expected to see a huge drop, down as much as 96% in 2022. This is due to a tight collaboration with the FTX exchange, which held a large amount of its capital in SOL, then went bankrupt. However, the Solana blockchain team is doing its best to sever its ties with FTX, and are reassuring users of a speedy recovery.
As of January 2023, the price of SOL has doubled from its historical decline, and most investors are reconsidering their opinions about investing in SOL. The coin's technology is quite interesting, and it has gained much more traction than other projects with a similar concept at this stage of development, which may inspire confidence in a price recovery soon.

Polkadot DOT
Market Cap: Over $7B
ATH: $53
The Current Price: $6.4
Polkadot (DOT) is an Ethereum-based blockchain platform that integrates DOT's own token. Polkadot allows the linking of blockchains into an edifice and enables the secure exchange and transmission of data and transactions in parallel between blockchains. This technology solves a lot of problems related to usability and scaling of blockchains.
The Polkadot network has a complex user management system, which is built on validators, nominators, and other users holding DOT cryptocurrency, who are committed to ensuring the full security and operability of the network.
Polkadot technology is unparalleled, and is the absolute leader in parachains. It also allows developers to deploy their own blockchains, offering their protection as a service. It is important to note that the project is not fully implemented, if developers will implement all their ideas in blockchain, it definitely has a promising future, with the technology that is really needed to work with cryptocurrency.

Litecoin LTC
Market Cap: Over $6B
ATH: $377
The Current Price: $87
Litecoin is a cryptocurrency that allows instant payments to anyone in the world. Litecoin cryptocurrency was released in October 2011, it is one of the first cryptocurrencies that was created after bitcoin.
The Litecoin blockchain was developed based on bitcoin's source code, with notable changes of its own. The same coin mining principle system as bitcoin, PoW, was implemented in Litecoin as well. This algorithm allows users to mine and maintain the blockchain using powerful computing equipment.
Litecoin, however, also has its own set of improvements, such as a block generation rate four times faster than bitcoin. In addition, transaction fees are much lower than in the bitcoin blockchain. These innovations have attracted a large number of users to use LTC as a convenient, cheap and at the same time fast means of translation.
It is safe to say that if the mass adoption of digital technology becomes available in our world, LTC will definitely have a good future.
---
Cryptocurrency is a high-risk investment tool, we are not responsible for high market volatility. Thus, be sure to do your own recertification and calculate all risks before investing in cryptocurrency. The article is not an investment recommendation, but a shallow description of the coins' features.