Global Denomination (GDN) Project
In this article, we will explore the concept of the Global Denomination project and how it is working to make global payments more efficient and secure. We will also discuss the benefits of the project and how it is helping to create a more level playing field for global financial transactions.
Are you looking for an innovative new project that is changing the face of global finance? The Global Denomination project is an exciting new initiative that is revolutionizing the way we view money and currency exchange.
What is Global Denomination (GDN)?
Global Denomination is a crypto coin that was launched in 2014 and was traded under GDN ticker. The project aimed to change the concept of cryptocurrency anonymity. GDN crypto is based on the Bitcoin and Litecoin Networks with several important improvements that ensure faster transactions (1 min blocks mining).
Global Denomination software uses X11 hashing algorithm, introduced with Darkcoin in same 2014. But unlike Darkcoin idea, GDN's developers opposed to anonymous nature of cryptocurrency. They wanted to use compliance to solve basic issues of crypto mass adoption.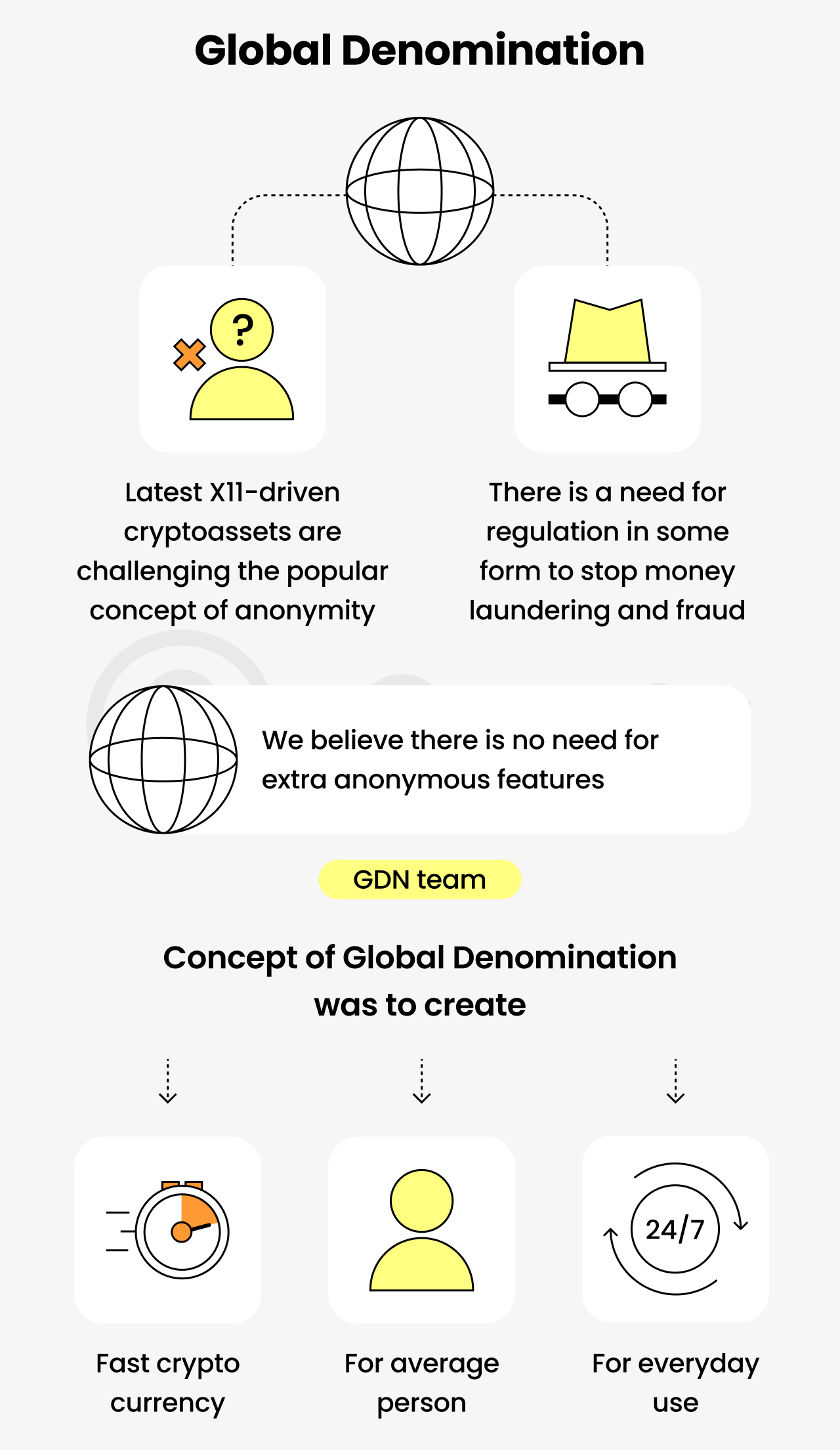 The decentralization of cryptocurrencies causes criticism, connected with trust, fraud and money laundering. To address this problems, the Global Denomination project has proposed a novel solution.
"We believe there is no need for extra anonymous features and we also understand there is a need for regulation in some form to stop money laundering, fraud etc. As a 'non-anonymous' crypto currency in the future Global Denomination will aim to comply with laws and regulations as they are made in as many countries as possible to make it easier for our users and merchants to comply," – Global Denomination team wrote in their announcement.
GDN's developers have implemented various measures to ensure the coin can be used in compliance with applicable laws and regulations. This includes the use of personal identification when registering transactions, as well as a "Know Your Customer" protocol to ensure all GDN owners are identified and can be tracked. By using X11 technology to make GDN transactions faster and more secure than ever before, GDN is challenging the notion that cryptocurrency needs to be anonymous to be successful. While GDN does not sacrifice anonymity completely, it does come closer than ever to providing a cryptocurrency that can be used legally and safely.
GDN crypto mining
Global Denomination tokens supported both CPU and GPU mining with Digishield. According to developers, GDN were mined with the following parameters:
1 minute block targets
Halving in 700k blocks (Approx 1 year +)
40 coins per block
Digishield for retargeting difficulty & to protect from Multi-pools
By project tokenomics a total of 56 million GDN supposed to be mined, with the 28,000 GDN pre-mined tokens. 13,000 of them remained to developer's team.
Global Denomination Software
The project team created a special mining sorftware and a faucet for tokens. Their crypto wallet and mining client software worked on Windows, Linux, OSX, Mac and Android platforms. Last versions of the apps were published in June and July of 2014.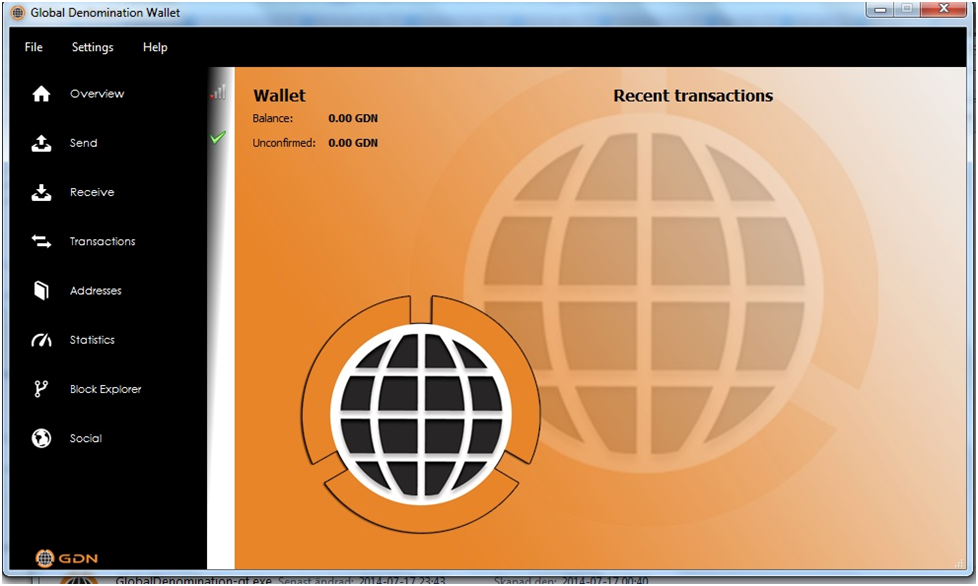 GDN is continuing to further the development of its wallet at a rapid rate, adding new features such as direct integration of CryptoConnecta and IRC, improved statistics, and cosmetic upgrades. The most recent milestone for the wallet is the release of version 1.8 of its Android app on Google Play, as well as preorders for its USB credit card. This tool will enable users to access their GDN wallet from any location. Aaron commented: "We are doing our best to make sure the GDN wallet is compatible with a variety of platforms and is accessible from multiple locations. The USB credit card is a prime example of this."
Global Denomination Founders
GDN Project developers remained anonymous for everyone, known only by names or nicknames.
Aaron (aka GD) – founder
Derek – developer
Claire – social media manager
BITMAKLER
Global Denomination History
Aaron first heard of Bitcoin in early 2013 and sparked an interest in it, prompting him to read up and research more about it. After much reading up, he decided to start mining with his normal GPU. However, as ASICs began to roll out, he quickly noticed that it was not profitable to mine Bitcoin anymore with GPU. He then switched to Litecoin for a while before investing in a 280x for more hashpower. After that, Aaron decided to mine newly launched coins, only to be caught by a few scammy developers, which almost made him give up on crypto.
But then, Dogecoin was released and even though it was a gimmick-coin, he started mining it due to the community focus. This is when the idea of GDN came to him. Aaron had enough of giving his hashpower to scammers and gimmicks and wanted to mine a crypto that had real uses, that wasn't unprofitable because of ASICs and had a developer who would work in the best interests of the crypto community. He still only has one 280x GPU for mining due to investing money in services for GDN rather than more hashpower for himself.
22/04/2014 – Global Denomination Launch
22/04/2014 – First Pools, Exchanges and Dice
26/04/2014 – Added to Poloniex
29/04/2014 – Added to Bittrex
04/05/2014 – Crypto-Auctions.com Launched
06/05/2014 – GDDice.org launched
06/05/2014 – Added to Worldcoinindex and whatmine
19/05/2014 – GDN Charity Page launched
20/05/2014 – GDN added to accepted currencies by AltAccept
22/05/2014 – v0.8.7 Update (Hardcoded Nodes, DigiShield, Cosmetic changes) Digishield switchover failed
25/05/2014 – v0.8.8 Update (Hardcoded Nodes, Fixed DigiShield, Cosmetic changes)
28/05/2014 – GDNAddress.tk launched for paperwallets
29/05/2014 – GDN2048.tk Launched – GDN Branded 2048 Game
31/05/2014 – GDPool.org launched
05/06/2014 – Added to Coinwarz
18/06/2014 – Crypto Connecta Launched
19/06/2014 – Direct Purchase of GDN for Euros at CryptoKopen.eu
02/07/2014 – Poloniex Trollbox Logger launched
04/07/2014 – Crypto Connecta Android App Released
21/07/2014 – Redesigned Wallets Released for all systems
Developers are also looking into creating a mobile app that will enable users to securely store, manage, and transfer their GDN funds on the go. This app should make it easier to use GDN on a daily basis and make it easier to pay for everyday items. Additionally, they plan to add support for more cryptocurrencies, allowing users to have a more diverse portfolio. Lastly, devs are exploring the possibility of a GDN Debit card, allowing users to access their funds at any ATM around the world.
Today's trending