Starbucks is collaborating with Bakkt to give users of their app a simple method to pay with Bitcoin, a move that may pave the road for the cryptocurrency's mainstream legitimization.
This change was revealed by the coffeeshop in 2018. One of spokesman told the media that the company's objective is to give customers a seamless experience while paying, regardless of the payment method they select.
Is It Possible to Buy Coffee with Bitcoin?
Yes, it is. Starbucks now accepts Bitcoin payments thanks to a collaboration with prominent digital wallet provider Bakkt. Microsoft and ICE are parties to this partnership as Bakkt in these businesses' platforms. Given the fact that Starbucks does not allow direct crypto transfers, the Bakkt platform is utilized to convert cryptocurrencies into options that are acceptable.
Prior to this fantastic partnership, there were few payment options, but now everything is as simple as ABC. For those who previously hoarded their priceless Bitcoins because they had no use for them, this is welcome news.
How to Pay for Orders with Bitcoin
What does it mean that payments now are as easy as ABC? The procedure of paying your order includes the next steps:
Copying the Starbucks Bitcoin address;
Pasting it into your crypto wallet;
Entering the desired amount of Bitcoin in the payment field;
Sending all that is required.
The above-mentioned simple procedure can be used at your subsequent Starbucks stop.
Bitcoin Transactions in El Salvador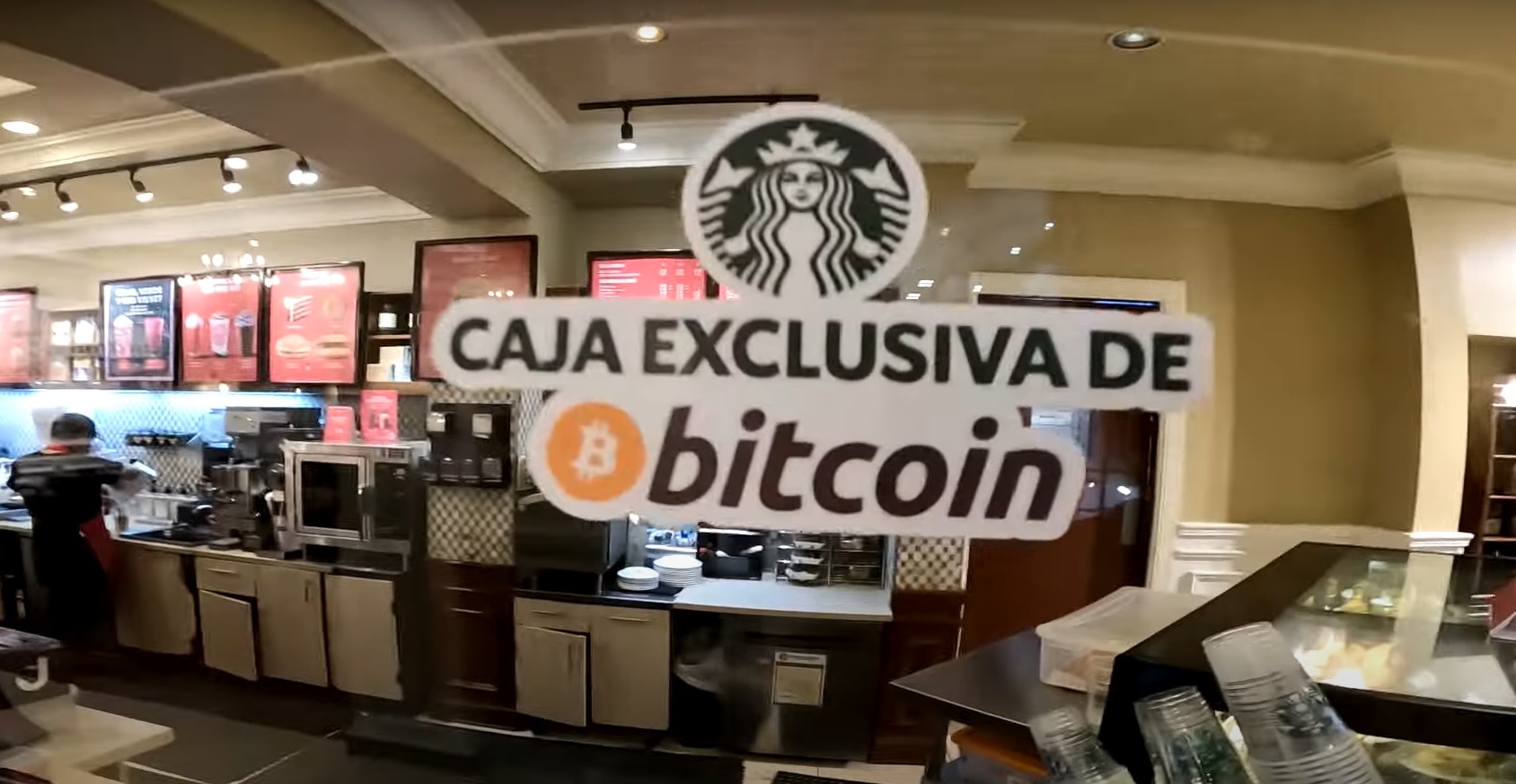 In September 2021, El Salvador became the first nation to recognize Bitcoin as a legal payment, and at the same time Starbucks increased its payment options to accommodate Bitcoin.
Although it is required by law that businesses accept Bitcoin, many people doubted that by the time the law took effect, major corporations would be able to adopt Bitcoin payment methods.
Many critics were shocked to learn that Starbucks in El Salvador can and would accept Bitcoin payments. Videos of crypto transactions in San Salvador have surfaced on Twitter and YouTube. Here you can see such transaction:
Starbucks Crypto Plans
The company brewing a revolutionary web3 experience for its rewards members.
Users can access Starbucks Odyssey, an addition to the market-dominating Rewards program, using their login information for Starbucks Rewards. After logging in, users can go on "journeys" through Odyssey, a collection of interactive games and tasks made to teach customers more about coffee and the coffeeshop. Members will be compensated for finishing journeys with a digital collectible "journey stamp" (NFT).
Customers and partners can sign up for the Starbucks Odyssey experience waitlist starting on September 12 for a chance to be among the first to access it when it launches later in the year.
Conclusion
Starbucks has been named as one of the mainstream organizations that have embraced cryptocurrency.
There aren't many places in the world yet where you can pay for goods with cryptocurrency, but this coffeeshop company has become one willing to keep up with innovations and introduce new loyalty programs related to Bitcoin and other cryptocurrencies.
---
FAQs
Does Starbucks accept cryptocurrency?
Yes, it does. Starbucks accepts Bitcoin as a payment for orders and prepares new loyalty rewards program Odyssey using NFTs.
Can I buy every product using Bitcoin at Starbucks?
Yes, you can. You can pay for coffee or any other product if you choose Bitcoin as a payment method.