In a groundbreaking announcement that underscores the shifting landscape of digital currencies, PayPal has set forth its plans to launch a stablecoin, marking a significant step toward integrating traditional financial systems with the rapidly evolving world of cryptocurrencies. This move comes as a response to the growing demand for stable instruments that are digitally native while remaining easily convertible to fiat currencies like the US dollar. The launch of PayPal's stablecoin is poised to have far-reaching implications within the crypto sphere and beyond.
One of the most intriguing aspects of this announcement is the rapid change of direction that PayPal has taken. Mere months ago, in February of this year, the company had halted its stablecoin project amidst regulatory scrutiny. The decision to resume this project in such a relatively short timeframe highlights the company's belief in the potential of stablecoins and its commitment to navigating the regulatory landscape.
What is PayPal's PYUSD Stablecoin
The newly introduced stablecoin, named PayPal USD (PYUSD), will be pegged to the US dollar and gradually rolled out to PayPal's US-based customers. What sets this stablecoin apart is its underlying backing, ensuring stability and value preservation. PYUSD will be fully backed by three key components:
US Dollar Deposits: The stablecoin's value will be anchored to the US dollar through deposits held in traditional bank accounts. This direct pegging to a widely recognized currency provides users with a secure and easily understandable valuation.
Short-Term Treasuries: To enhance stability and provide a diverse pool of assets, the stablecoin will be backed by short-term treasuries. These government-issued securities are considered low-risk investments and further solidify the stablecoin's value proposition.
Cash Equivalents: In addition to dollar deposits and treasuries, PayPal's stablecoin will be backed by cash equivalents. These are highly liquid and low-risk assets that maintain value stability, adding another layer of security to the stablecoin's value.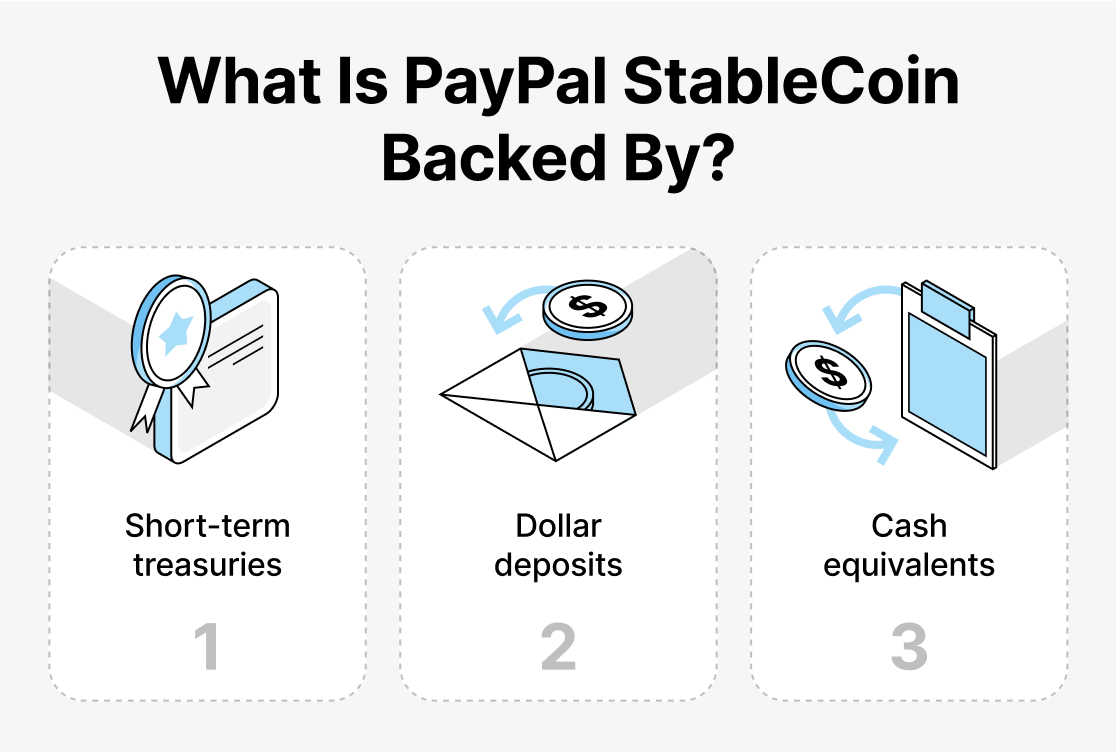 Impacts of the Launch
The launch of PayPal's stablecoin carries multiple implications for the crypto space, traditional finance, and regulatory discussions:
Crypto Adoption Boost: The adoption of a stablecoin by a mainstream financial services provider like PayPal is a clear signal of increasing acceptance and integration of cryptocurrencies into everyday financial activities. Users may buy, store and trade PYUSD using crypto wallets.
Ethereum Ecosystem Growth: The stablecoin will be built on the Ethereum blockchain as an ERC-20 token. This move is likely to boost the adoption of Ethereum and contribute to the ecosystem's growth.
Regulatory Clarity: PayPal's launch demonstrates that progress is being made in regulatory discussions. The fact that PayPal is moving forward with its stablecoin project indicates that it has obtained a level of regulatory clarity, which is essential for broader industry development.
Stablecoin Legislation: The announcement comes on the heels of a US Congressional committee advancing a stablecoin bill, highlighting the increasing attention regulators are paying to the sector. PayPal's move could potentially influence future regulatory decisions and discussions on stablecoins.
Global Financial Transformation: The launch of a widely accessible stablecoin has the potential to reshape global payment systems. By providing a stable, digital alternative to traditional fiat currencies, PayPal's stablecoin could drive innovation and competition in the financial sector.
In conclusion, PayPal's decision to launch a stablecoin is a significant development that underscores the transformative potential of cryptocurrencies. By creating a stable instrument pegged to the US dollar and backed by robust assets, PayPal is paving the way for wider cryptocurrency adoption and challenging the status quo of traditional finance. This move not only signifies PayPal's commitment to innovation but also offers a glimpse into the evolving landscape of digital currencies and their integration into mainstream financial services.