Nowadays buying crypto is a fairly straightforward process. But what if you have difficulties in buying some coins which are not available directly like MoonlyFans? In this article we give you the guide and answer the question "How to buy Moonlyfans crypto?" and others.
Instructions on How to Buy MoonlyFans Crypto
Moonlyfans is a decentralized digital asset built on the blockchain BNB and is not available to purchase directly. So the easiest way to buy Moonlyfans crypto is the next:
1. First, you need to find an exchange that supports Moonlyfans, such as PancakeSwap or PancakeSwap (V2).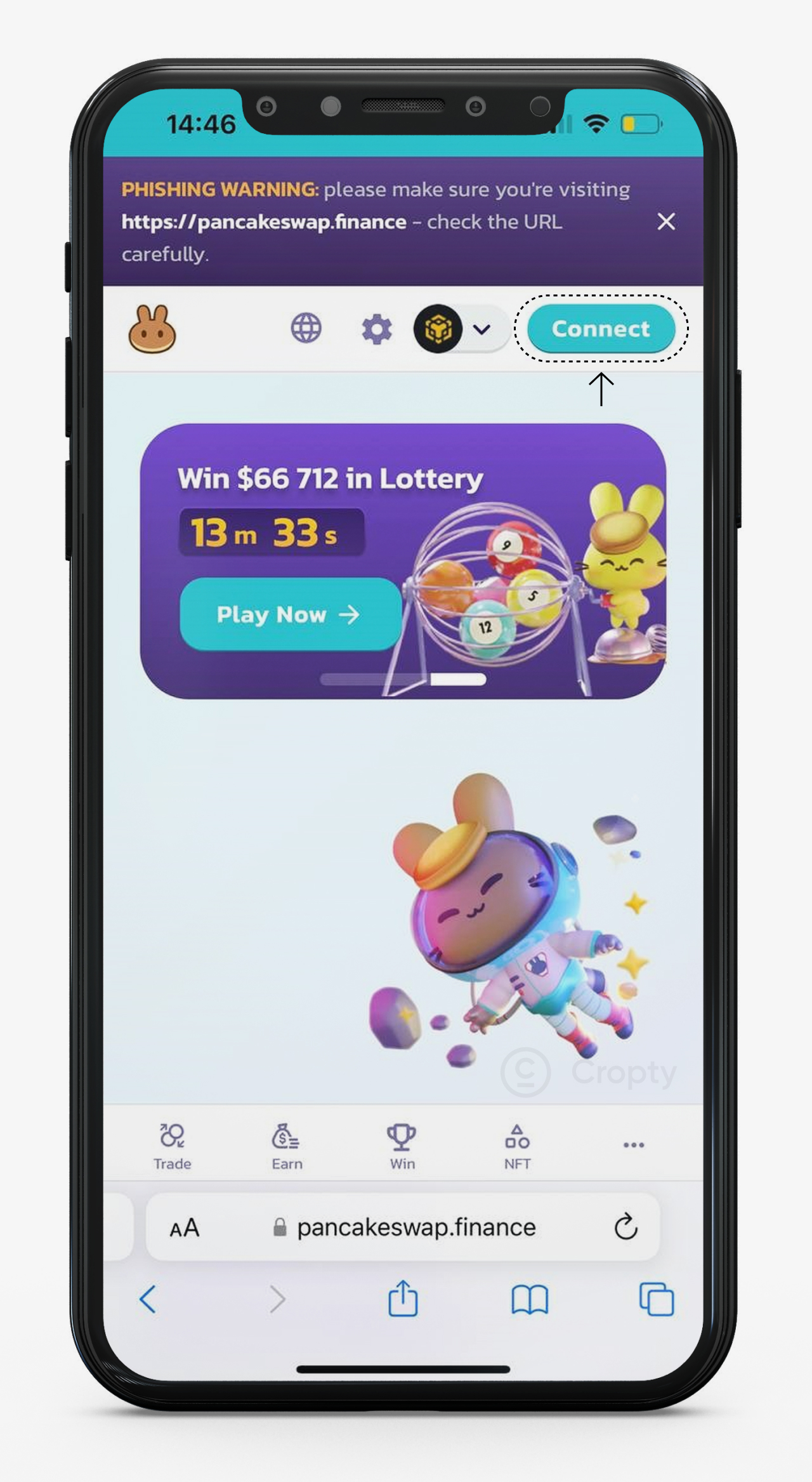 2. Connect your wallet with PancakeSwap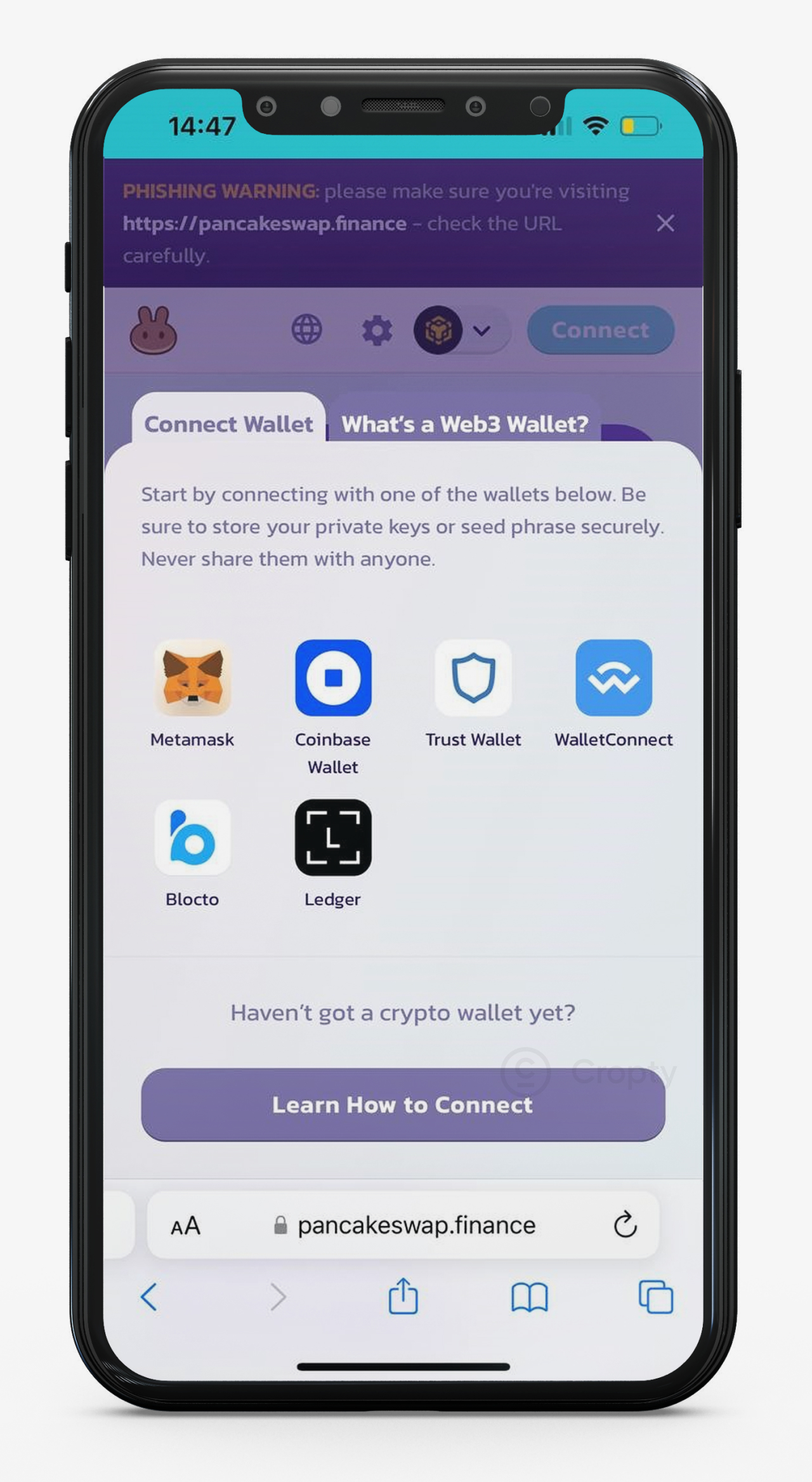 3. Select "Approve"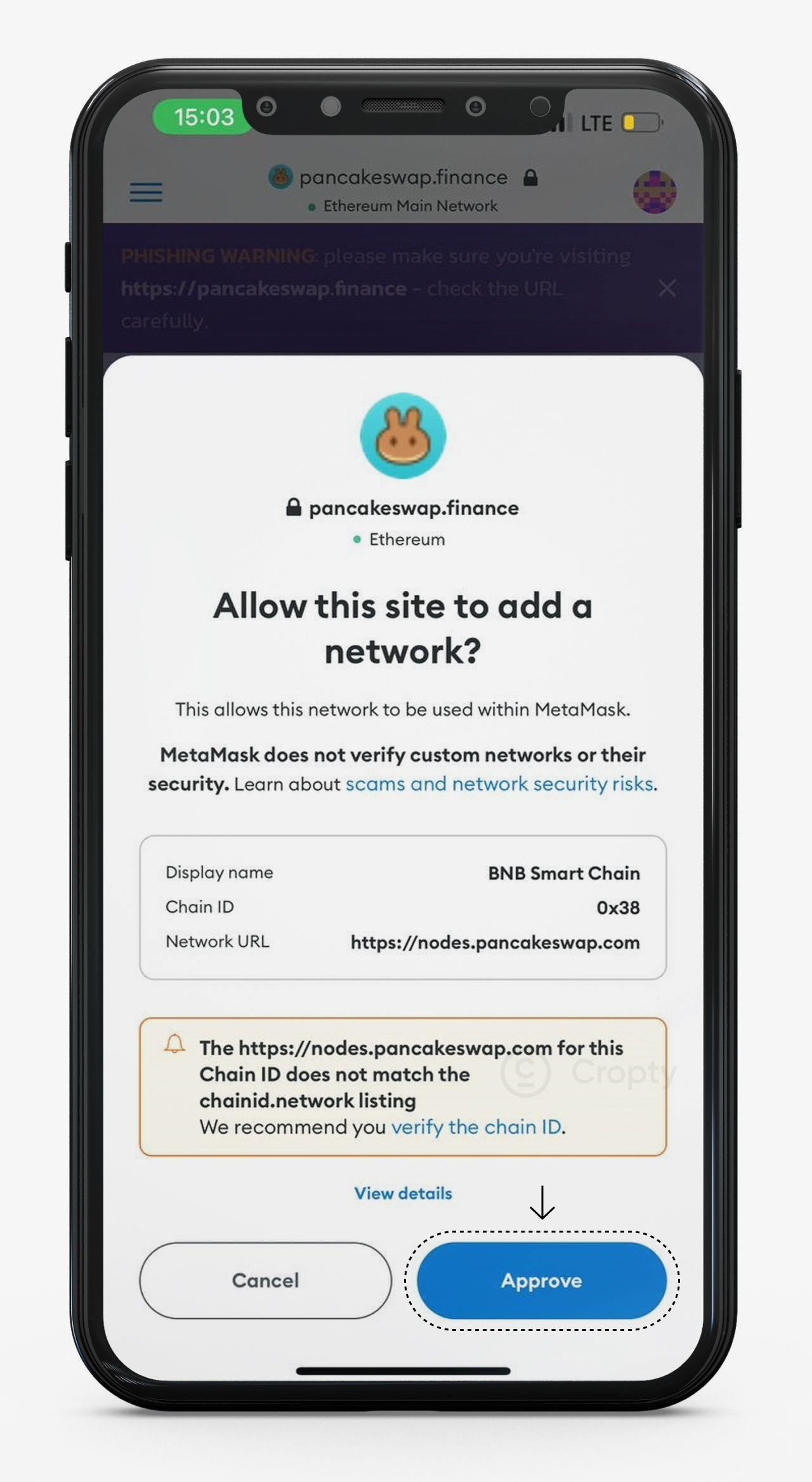 4. Select "Switch Network"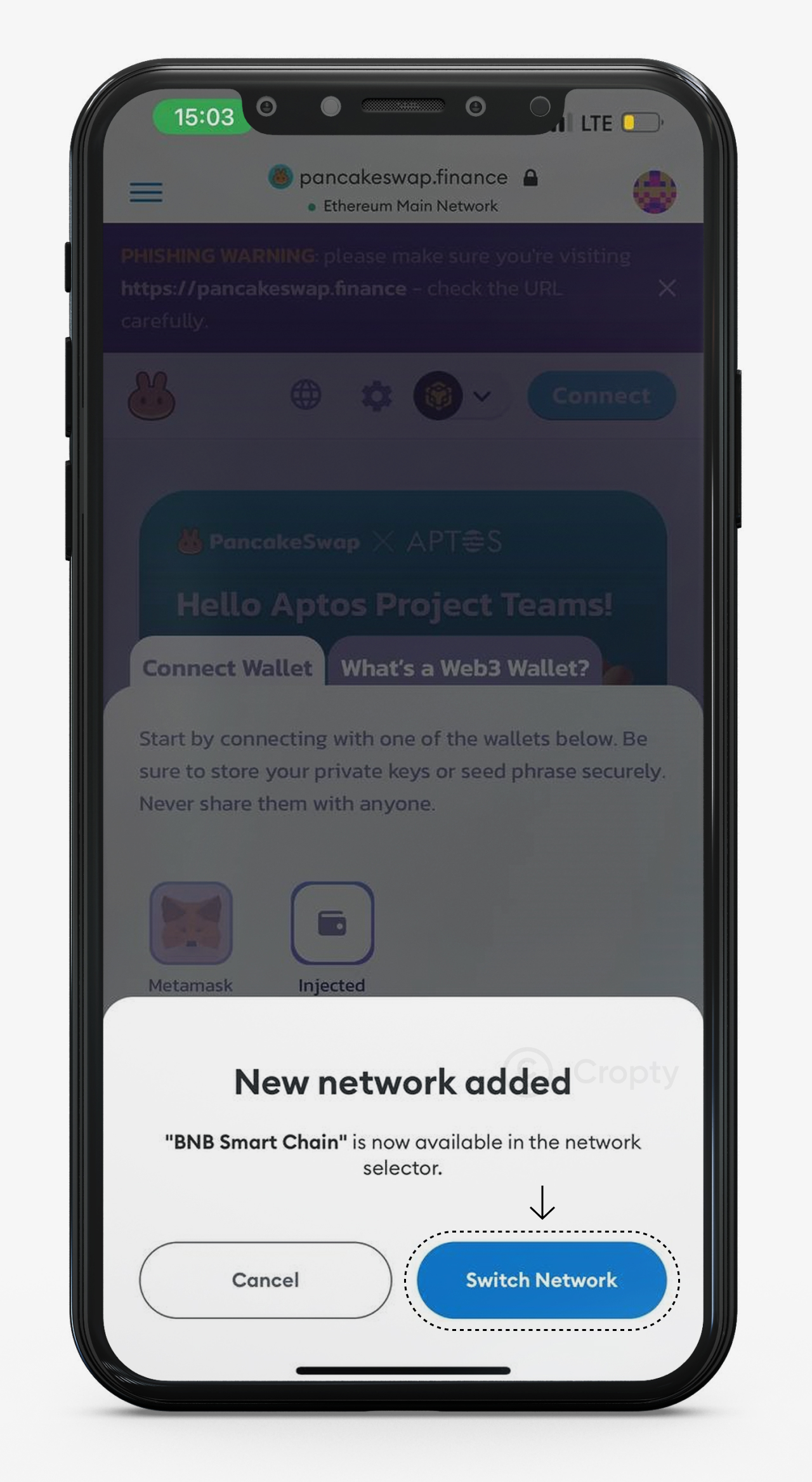 5. Click "Trade"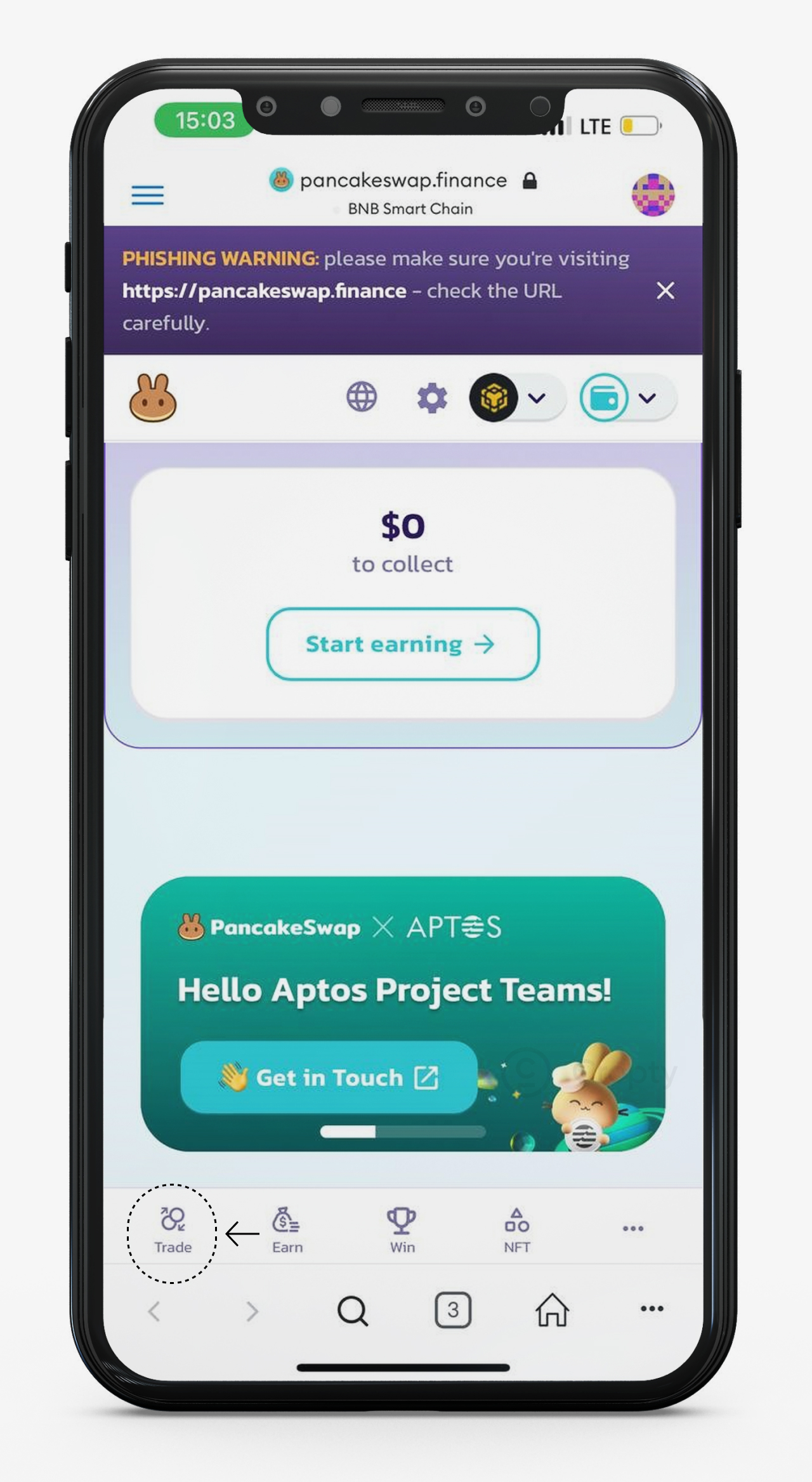 6. In order to buy Moonlyfans, you must first purchase BNB or another digital currency that is available on a crypto exchange.
7. After that, you can then go to the exchange's market page, find the Moonlyfans token, and place a buy order. In case you can't find the Moonlyfans token on PancakeSwap or PancakeSwap (V2), import the token using its address 0x95a566D335872F7ee447D5010eCEf96c1806cb82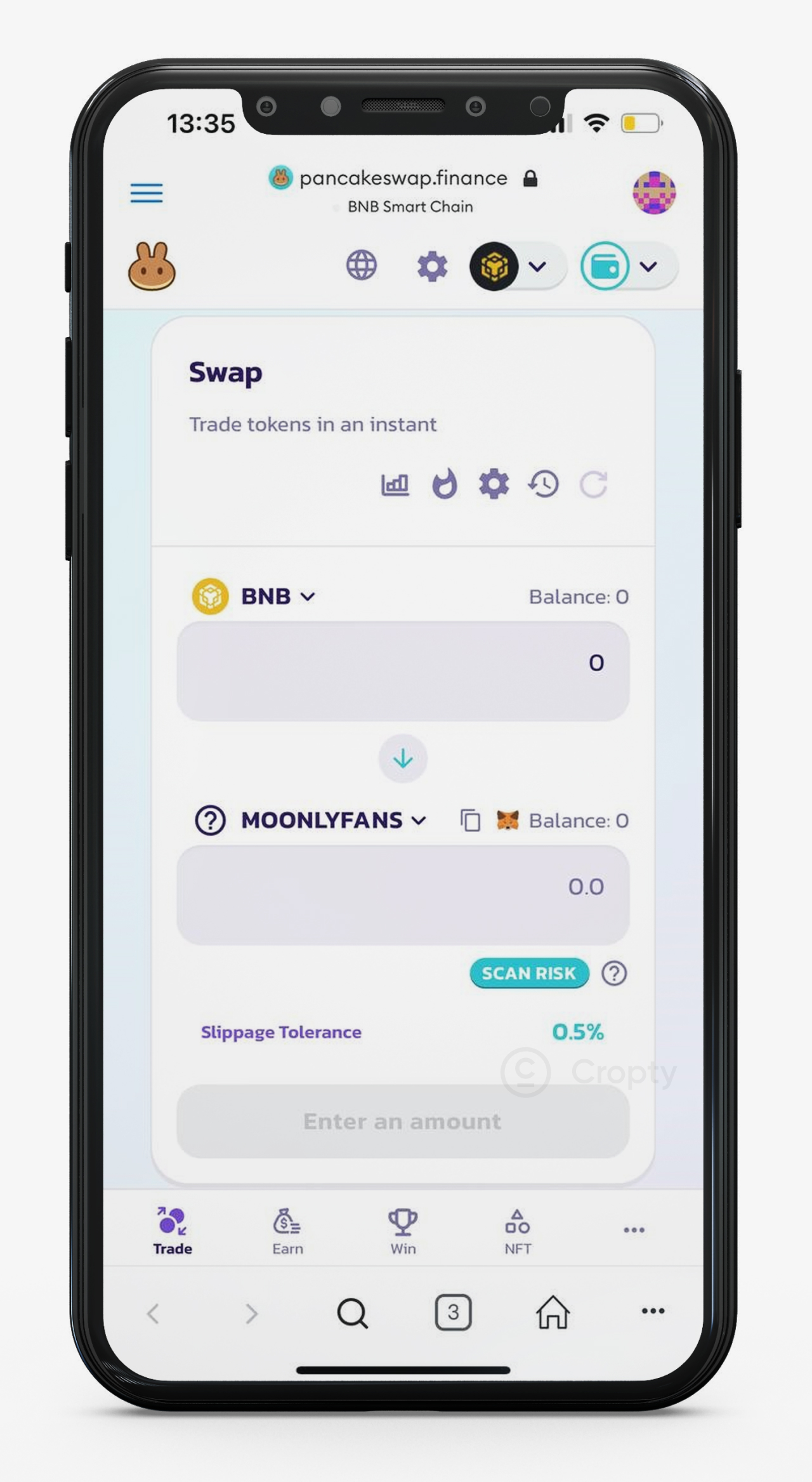 8. Once your order is executed, you will now own some Moonlyfans tokens.
What is MoonlyFans Crypto?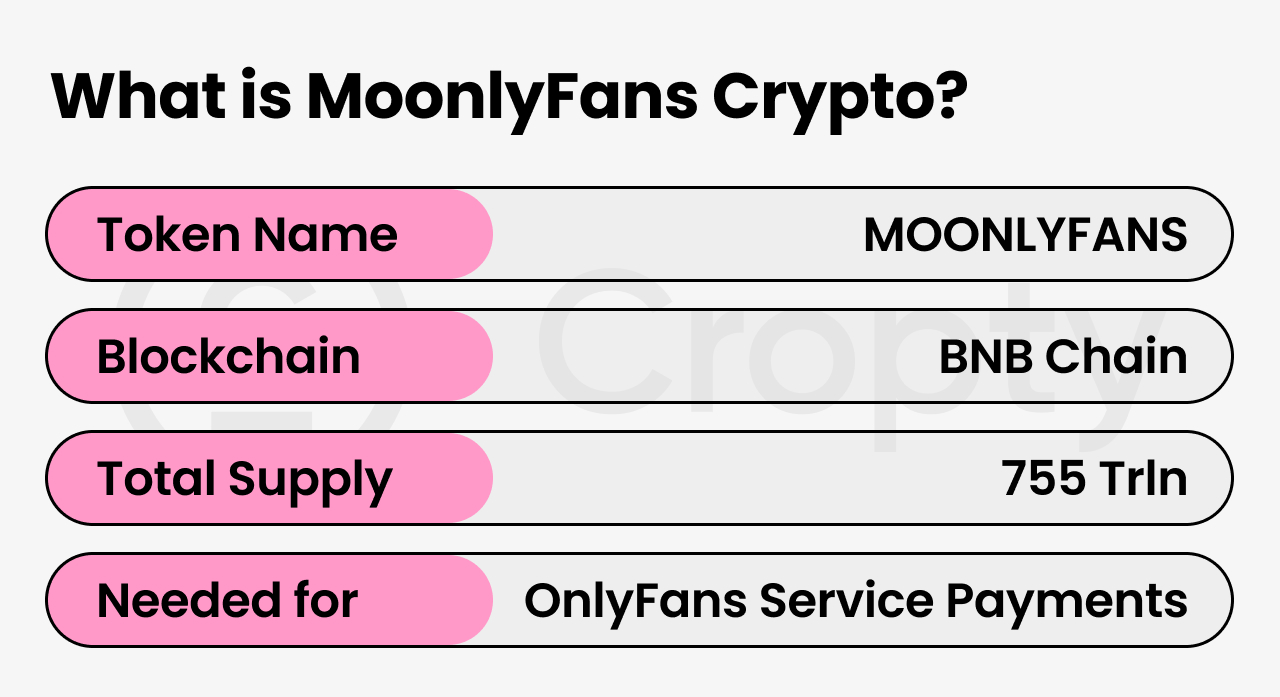 Moonlyfans is a cryptocurrency project that helps people to pay for subscriptions anonymously on the adult platform OnlyFans. Of course, it is not surprising that many users would want to stay anonymous given the nature of this website. The project was launched at May, 24 2021. Total supply is 755,183,615,554,830.18 as of the date of publication. The project is built on the BNB blockchain and uses smart contracts to ensure that all transactions are secure and reliable. Moonlyfans aims to make cryptocurrencies accessible to everyone, regardless of their technical expertise or financial background.
Here is MoonlyFans to USD Chart: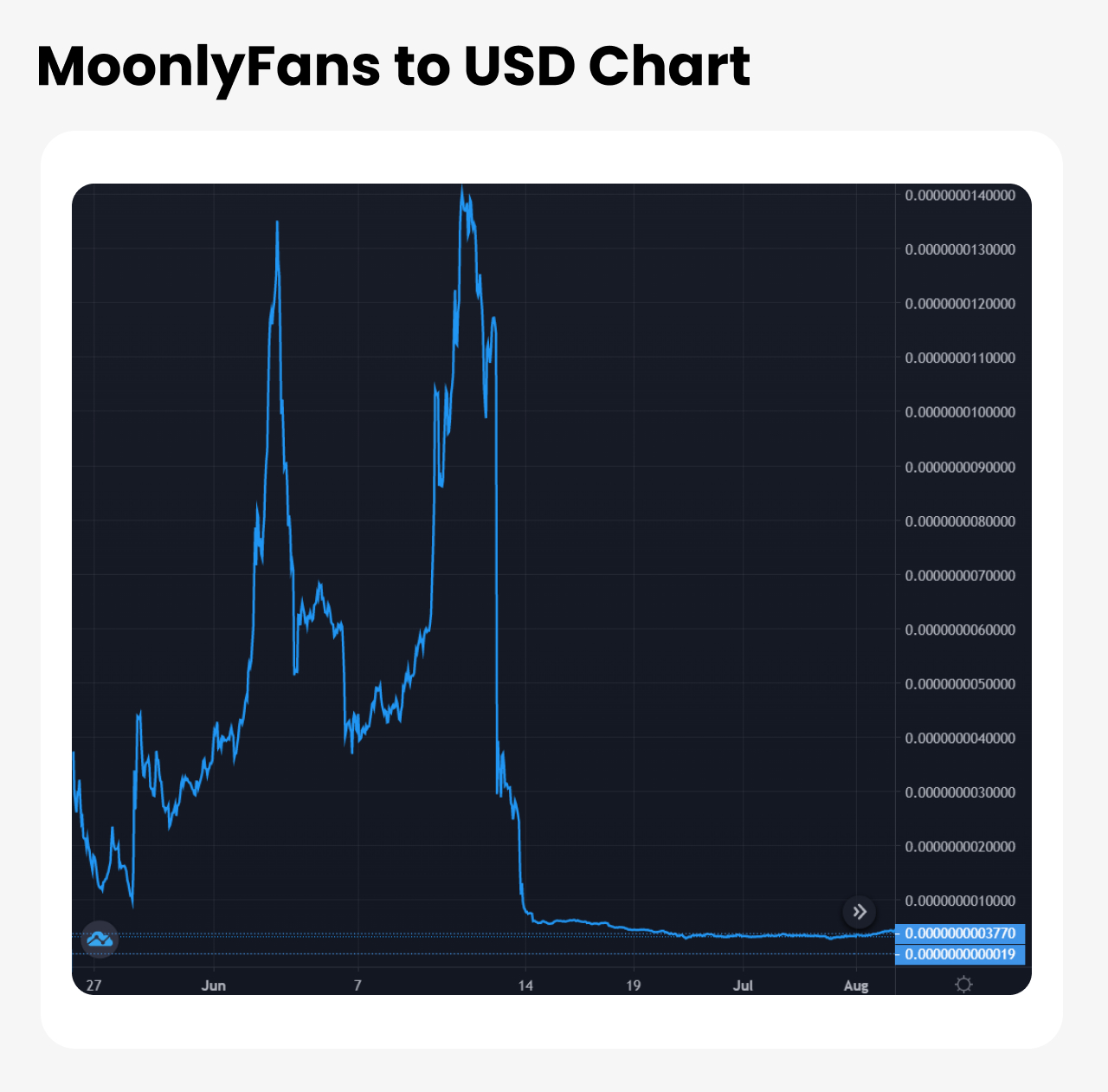 Benefits of MoonlyFans Crypto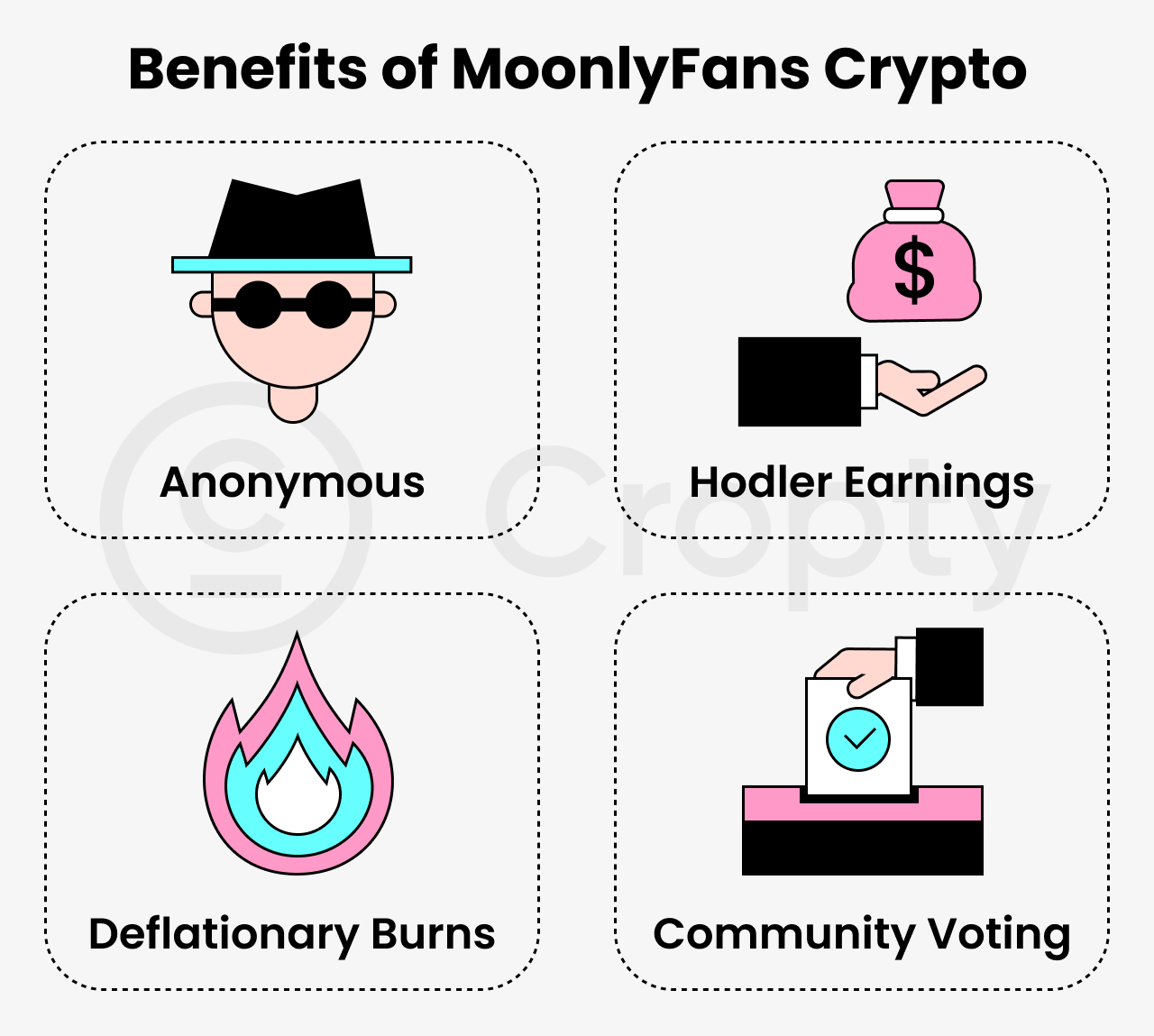 Anonymous. Buying MoonlyFans tokens and paying for subscriptions on OnlyFans will keep you anonymous
Hodler Earnings. A percentage of the transaction tax on MoonlyFans is distributed to its owner from each transaction
Deflationary Burns. Moonlyfans levy a flat tax of 15% on all transactions entering the tax purse, which reduces the overall supply in circulation, resulting in higher prices and lower supply.
Community Voting. Regular community surveys are conducted to determine the percentage of the tax purse that is used for marketing and distribution in the community and burned off.
What is MoonlyFans Platform?
The creators of MoonlyFans tokens also want to make a platform which will allow users to pay for subscriptions in cryptocurrencies such as Bitcoin and others. Once this process is completed, MoonlyFans will send you login credentials to your account. According to the information on their site, the whole process will take a few minutes. Currently, it will be possible to pay for subscriptions with MoonlyFans tokens too, but this has not been done yet.
How does MoonlyFans Crypto Work?
MoonlyFans has deflationary features. For example, the burn-in ratio is 5%. This means that a portion of each token is removed from the supply pool during each transaction. In the long run, the main point is that a reduction in supply will lead to higher prices. In addition, 10% of each transaction is automatically taxed and distributed to other cryptocurrency holders.
In general, MoonlyFans' tax is over 15%. However, MoonlyFans also has an anti-dumping mechanism. Most mem coins can be valued effectively if large buyers and sellers own enough cryptocurrencies.
Why Should You Buy MoonlyFans Crypto?
Moonlyfans Crypto is a digital asset that offers users a unique way to invest in the global crypto market. Furthermore, Moonlyfans Crypto has a solid team of developers, advisors and investors behind it. Additionally, it has a strong roadmap for the future and is actively working on new products and services for users. All of these factors make Moonlyfans Crypto an attractive investment option.
Here is a path with fulfilled commitments and some future plans: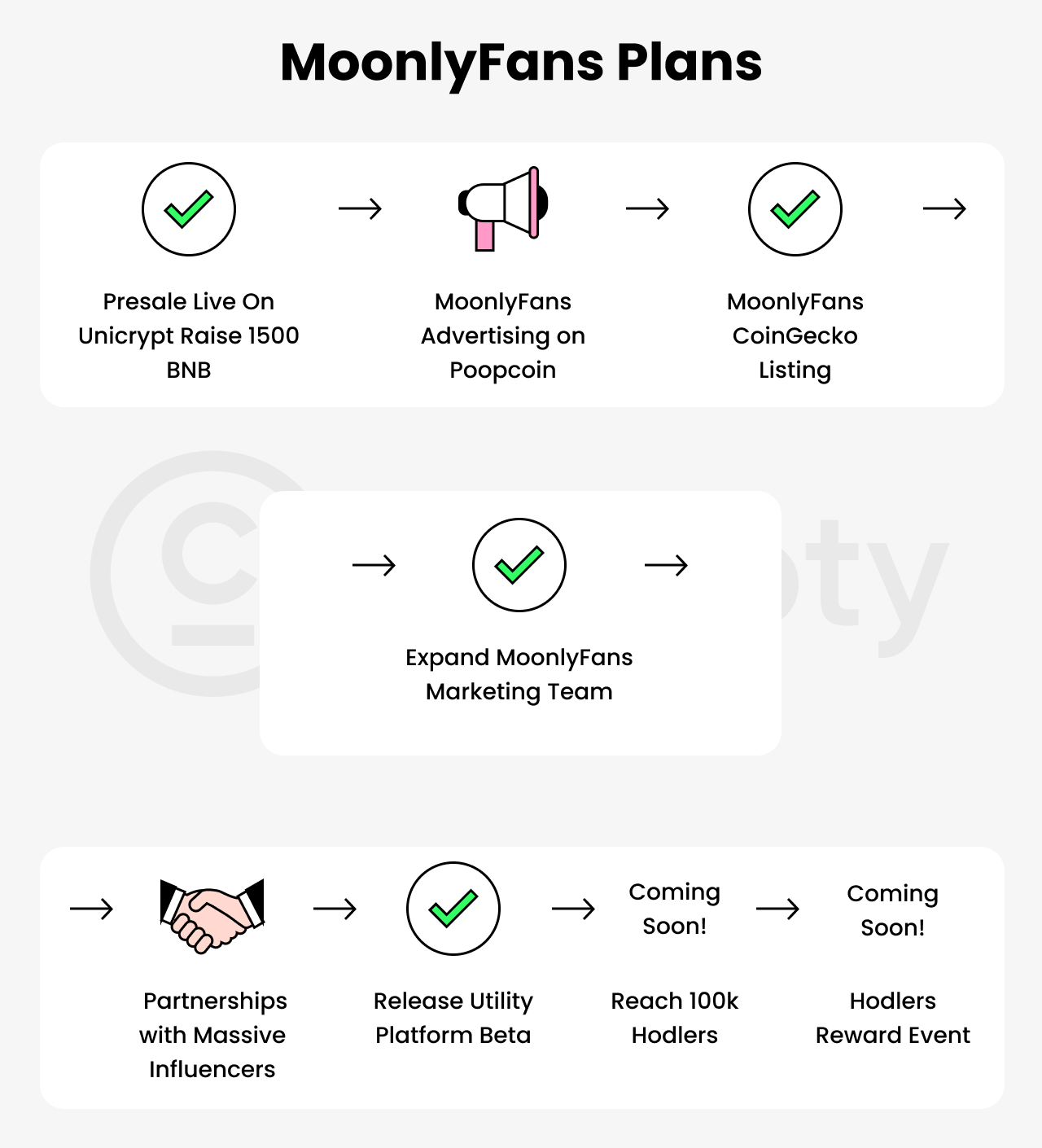 Conclusion
Based on all the above characteristics, it can be concluded that the Moonlyfans is ideal for you if you are an active user of OnlyFans platform. These tokens will help you stay anonymous in your payments.
However, if you just want to buy Moonlyfans as a part of your investment portfolio, don't get your hopes up too much, because it is not yet clear whether Moonlyfans crypto will really be as liquid as the creators claim.
Cropty.com does not provide financial advice, any information available on this website is 'general' in nature and for informational purposes only. Do not use it as a guidance for investments.
---
FAQs
What is MoonlyFans crypto?
Moonlyfans is a cryptocurrency project which helps you to be anonymous making payments on OnlyFans platform.
Where to buy MoonlyFans crypto?
You can buy Moonlyfans crypto from PancakeSwap (V2) and PancakeSwap.
Is it safe to buy MoonlyFans crypto?
It is too early to talk about investing in Moonlyfans as an investment portfolio because there is too little data on this cryptocurrency.
What are the benefits of MoonlyFans crypto?
Anonymous on OnlyFans
Hodler Earnings
Deflationary Burns
Community Voting
What is MoonlyFans token contract address?
MoonlyFans (MOONLYFANS) is a ERC20 Token in BNB Chain. Its token contract address is 0x95a566D335872F7ee447D5010eCEf96c1806cb82.