Best Bitcoin Wallets for 2023
Choosing a bitcoin wallet is quite a complex and meticulous task. Based on the variety and security of bitcoin wallets, in this article we will help you choose a wallet suitable specifically for your criteria and capabilities.
Fast Content View:
Top 5 Best Hot Wallets for Bitcoin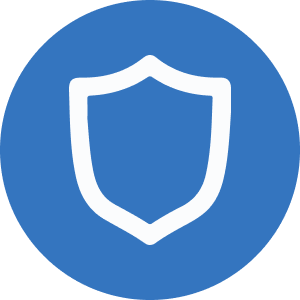 1. Trust wallet
Trust wallet is a mobile decentralized wallet, for bitcoin transfer and exchange, which is supported by the leading crypto exchange Binance. More than 25 million users regularly use it for their purposes. Trust wallet is open-source, which ensures full transparency and security of assets, also the wallet supports more than 50 blockchains. It is a universal option for storing your portfolio collected from dozens of blockchains, including bitcoin. Trust wallet is famous for its user-friendly and intuitive interface, which makes it easy to make transfers and other interactions with cryptocurrency.
Trust wallet has a built-in Web 3 browser, which allows you to work with a variety of decentralized applications Dapps and NFT. A recent innovation of the wallet made it possible to use it on a computer by downloading a browser extension, making it more convenient to interact with decentralized services.
Why we chose it?
Trust wallet solves the problem of buying bitcoins and other cryptocurrency in the app itself by supporting a host of wallet funding options, the most popular ones being: Binance P2P, Transak, Ramp and many others. Also, with this wallet you can earn bitcoins and other cryptocurrencies by betting from the application itself with up to 30% + APY. In Trust wallet it is possible to exchange your coins with relatively small commission, in addition, the team is planning to introduce inter-network coin transfers with ThorChain integration.
How to get a Trust bitcoin wallet?
Download the Trust Wallet app, you can use any mobile IOS or Android device, also if you plan to use the wallet on your computer, you can install extensions on your browser by taking a link from the official Trust Wallet website.
Trust Wallet Pros and Cons
Pros
Good security relative to hot wallets
Access to a large number of coins inside the wallet
Possibility of passive income
Support for fiat currencies for deposits
User-friendly interface, suitable for beginners
Cons
No educational content to learn about coins
Belongs to Binance, which has faced regulatory problems in the U.S.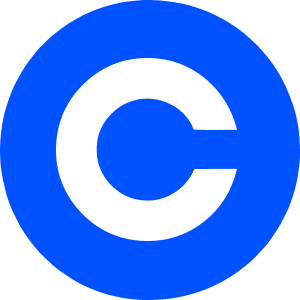 2. Coinbase Wallet
Coinbase wallet – a bitcoin wallet of one of the most famous cryptocurrency exchanges Coinbase. Coinbase wallet is a favorite for newcomers with no experience with cryptocurrencies, with a fairly simple and intuitive interface and support for educational content. Coinbase wallet communicates with multiple financial institutions and is subject to strict financial control rules. This wallet supports a plethora of crypto assets and a sufficient number of blockchains. However, it should be taken into account that the work with bitcoin is supported only in the mobile application.
Why we chose it?
Coinbase wallet is famous for the integration of dozens of decentralized applications that provide earnings, cryptocurrency exchange, and many other features. Examples of the most popular decentralized exchanges supported by the wallet: Uniswap, 1inch, QuickSwap, Raydium, Curve etc. Also, the wallet easily connects to its exchange Coinbase, which provides transfer of cryptocurrencies, bitcoin deposits through Coinbase pay and trade coins. The wallet has an inter-network transfer function, which is significantly convenient for users who often work with different blockchains.
Worth mentioning is the fact that the wallet provides integration of the popular Ledger hardware wallet. This means that users who use this Ledger wallet can also use a lot of Coinbase Wallet services.
How to get a Coinbase bitcoin wallet?
You can download the wallet to any Android or iOS mobile device. To use it on a computer, you need to download the extension on your browser provided on the official Coinbase website.
Coinbase Wallet Pros and Cons
Pros
Supporting a large number of DEX (decentralized exchanges)
Reliability of the wallet. Coinbase is an old exchange, which passes a serious check in the development of new products and values its reputation.
The possibility of passive income
User-friendly interface for newbies
Support for two-factor authentication
With the support of Coinbase exchange, it is possible to recover lost or stolen funds.
Cons
The entire functionality of the wallet is supported only through the mobile app
Security problems typical of all hot wallets.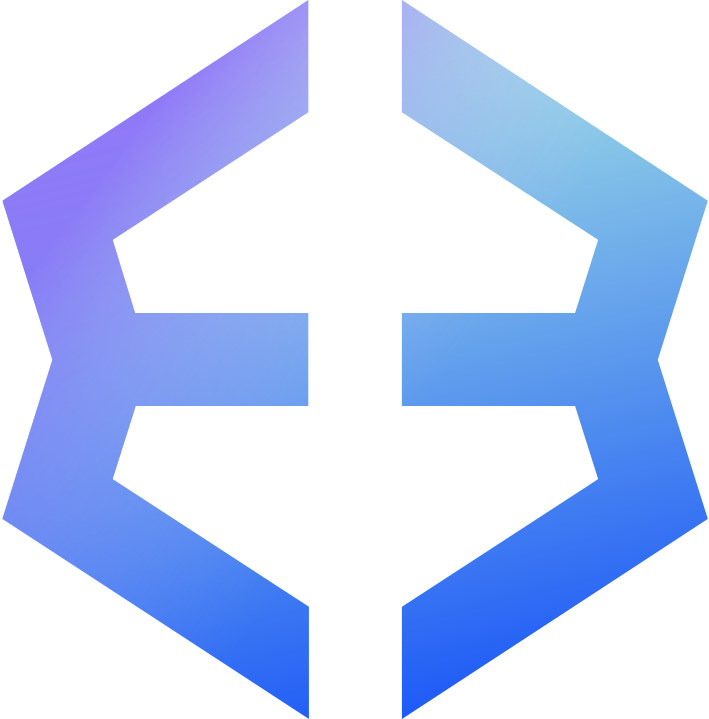 3. Exodus
Exodus is one of the most famous multi-currency bitcoin-wallets that acts as a mobile, desktop or browser application. Exodus supports more than 250 cryptocurrencies, including bitcoin. For beginners Exodus provides a lot of tutorials and videos, through which you can learn more about the world of cryptocurrencies.
Exodus provides the ability to connect to Web3 applications, which means that it is definitely suitable for holding NFT, at that on a huge number of blockchains. With the Ramp platform, users can top up their wallet directly from a bank card, for example. Also, Exodus is planning to introduce crypto asset exchange in this app soon, which will make it more convenient for users to interact with cryptocurrency.
However, for more advanced users, there may be doubts about the wallet's security, as it has closed source code, which contradicts the very concept of bitcoin, and provides a less secure option for storing cryptocurrency. As such, users have only to rely on the Exodus team, namely, to guarantee the invulnerability of the software code.
Why we chose it?
Exodus is quite stylish and easy to use for both beginners and advanced users. Exodus supports decentralized exchanges, through which users can trade bitcoins and earn by stealing various cryptocurrencies. In addition, Trezor cold wallet users can connect their device to use Exodus features.
How to get an Exodus bitcoin wallet?
To start using the wallet, you need to choose 3 variants of its type: mobile, desktop or browser application.
Exodus Wallet Pros and Cons
Pros
User-friendly interface for beginners
Good technical support
Passive income opportunity
Support for more than 260 cryptocurrencies
A lot of tutorials
The possibility of return of the lost assets
Cons
Not integrated with centralized exchanges
No support for two-factor authentication
High commissions for transactions
Because of the closed source code, there are a number of questions on the security of this wallet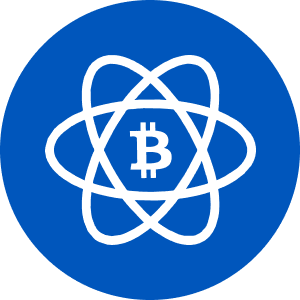 4. Electrum
Electrum is one of the first and most reliable hot bitcoin wallets. Electrum wallet was launched in 2011 by Thomas Vogtlin, over three hundred developers worked on its software. This crypto wallet has shown its safety on the huge period of time and earned the trust of a large number of crypto investors. Electrum is quite easy to use, with a very simple interface and sufficient functionality. Thus, it is suitable for both beginners and advanced crypto-enthusiasts who are planning to make more complex bitcoin transactions. Electrum was initially created as a desktop application, but now it can be used on Android devices as well.
It is important to understand that Electrum only supports bitcoin and has never supported other cryptocurrencies in its history. However, it handles its functionality with excellence. As mentioned above, more than 300 developers worked on the source code and they have made 14,000 edits to the code over time to make it more secure.
Why we chose it?
Electrum contains many security measures, including support for two-factor authentication, performing transactions in multiple signature steps, which provides an even more secure bitcoin storage option. In addition, users can adjust the amount of transaction fees themselves, that is, the faster you want to transact, the more fees you will pay and vice versa.
How to get an Electrum bitcoin wallet?
To start using Electrum you should either download the client to your desktop device or download it to any Android mobile device.
Electrum Wallet Pros and Cons
Pros
Good security with respect to hot wallets
Simple and intuitive interface
Configurable transaction fees
Support for popular hardware devices
Cons
Outdated design that's not ideal for newbies
Support for bitcoin only
No technical support for customers
Limited functionality
Not available for iOS users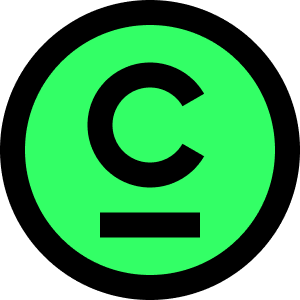 5. Cropty
Cropty is a hot bitcoin wallet which is supported on mobile devices and browsers. Cropty supports dozens of cryptocurrencies, and 5 major blockchains: Bitcoin, Ethereum, BNB Chain, Polygon and Tron. This bitcoin wallet has a fairly user-friendly and intuitive interface, and provides tutorials on cryptocurrencies and visualization of bitcoin and other cryptocurrencies charts. Because of this, it will be easier for newbies to understand bitcoin and invest in it confidently in the app itself.
Cropty solves many problems connected with the convenience of using bitcoin wallets, allowing you to send cryptocurrency by phone number, QR code and also by nickname. This function is much more convenient than using a confusing public address. Cropty allows you to earn passive income from invested USDT under a flexible term and up to 6% APY. In addition, you can borrow USDT by leaving your bitcoins, or other cryptocurrency as collateral, in our app. In the future we're going to expand the application's functionality and support even more popular coins.
Why we chose it?
Cropty's high-security bitcoin wallet allows you to safely store your assets. Cropty keeps private keys far away from the Internet, which is invulnerable to hackers protecting the wallet with military-grade security. For added security you need to set a password and provide authentication email. You can also use two-factor authentication for even more limited login into the wallet.
How to get a Cropty bitcoin wallet?
To start using Cropty, you have to download the app on your device. After that, it's quite simple and quick to register by entering your phone number or email to gain access to the wallet. Next, you need to protect your Cropty bitcoin wallet with the security measures provided. Now you can transfer cryptocurrency to it and use it safely.
Cropty Wallet Pros and Cons
Pros
User-friendly and intuitive interface for beginners
Supports passive income and referral system
Good security relative to custodial wallets
Provides crypto lending
Cons
A limited number of cryptocurrencies
No support for decentralized and centralized exchanges
Best Bitcoin Wallets Comparison
The best wallets for active users with fast transactions and versatility, compared:
| Brand | Integration with CEX | Cold wallets compatability | Who it's good for | Safety |
| --- | --- | --- | --- | --- |
| Coinbase | Yes | Yes | Both for beginners and advanced users | 9.5/10 |
| Trust | Yes | No | Best mobile wallet | 9.2/10 |
| Exodus | No | Yes | Best for Beginners | 9/10 |
| Electrum | No | Yes | Best for advanced users | 9.5/10 |
| Cropty | No | No | Best for Beginners | 9.5/10 |
What is a Bitcoin Wallet?
Bitcoin wallet – a wallet for storing cryptocurrency, in the form of desktop, mobile or browser application. Also, a bitcoin wallet can be a physical device without internet access. Bitcoin wallets store private and public keys, also allow bitcoin storage and blockchain transactions between addresses.
A private key is nothing more than access to crypto assets inside the wallet, it identifies the true owner of the cryptocurrencies. The public key, in turn, is a unique wallet address that is used to send or receive digital currencies within the blockchain.
To protect your funds, crypto wallets generate a so-called "seed-phrase," which consists of 12, 18 or 24 words. The "seed-phrase" is your access to the wallet, losing it can expose you to the loss of your funds. The seed-phrase is also used to restore, and import the wallet to another device. It is very important to keep it in a safe place, anyone who has access to your seedcid phrase can access your assets inside your wallet.
How Does Bitcoin Wallet Work?
The transfer and receipt of bitcoins in wallet is made in public registry – blockchain, it stores information about all transactions. Also, using the blockchain, anyone can access to view the funds in the bitcoin wallet of any user.
To send bitcoins to another wallet, you need to click press the "send" button, select bitcoins and enter the address of the wallet to which you want to transfer assets. Respectively, you can get funds to a wallet in the same way, by pressing "get", select coins, and copy the received address. After that, you can transfer crypto from exchange or directly from online exchangers by entering the address of your bitcoin wallet. Now you can manage your assets inside your wallet.
In order to find a bitcoin wallet suitable for you, you need to rely on the purpose of its use. If you are planning to make frequent transactions and keep small amounts of money, a hot wallet will suit you. On the other hand, if you need a safe and secure wallet for storing large amounts of bitcoins, you should buy a cold wallet.
What is a Hot Wallet?
A hot wallet is a mobile, desktop or browser-based application that has constant access to the Internet. To start using it you just need to download it to your device and generate the address, making sure to save your seed and put a security password on it. After that you can easily and conveniently use it both on your mobile device and on your computer for your purposes.
The advantage of hot wallets is their availability and convenience, unlike the cold ones. But, you should take into account the security of a hot wallet. Because of the constant connection to the Internet, its vulnerability to hacker attacks is higher than that of cold wallets. However, hot wallets are still safe enough to store bitcoin, and are suitable for everyday use.
What is a Cold Wallet?
A cold or hardware wallet is a physical device without internet access. To start using a cold wallet, you need to order it from the official website by pre-selecting it among the companies below. To start using it, you should connect it to the application, which supports this device, with the help of USB for computer and QR code for a smartphone. Then you will have to write down the sideline, for this you will be given a piece of paper together with the device. Now you can transfer bitcoin to it, and store your assets safely.
A cold wallet is the safest solution for storing bitcoin and other cryptocurrency. Because the device is not connected to the network, it is invulnerable to hacker attacks. However, a cold wallet is less accessible to users with small capital because it is quite expensive. Also, you should take into account the fact that if you lose the device, wallet recovery is quite a serious ordeal. In addition, if you lose the seed-phrase from the wallet, you lose your funds without the possibility of recovery at all.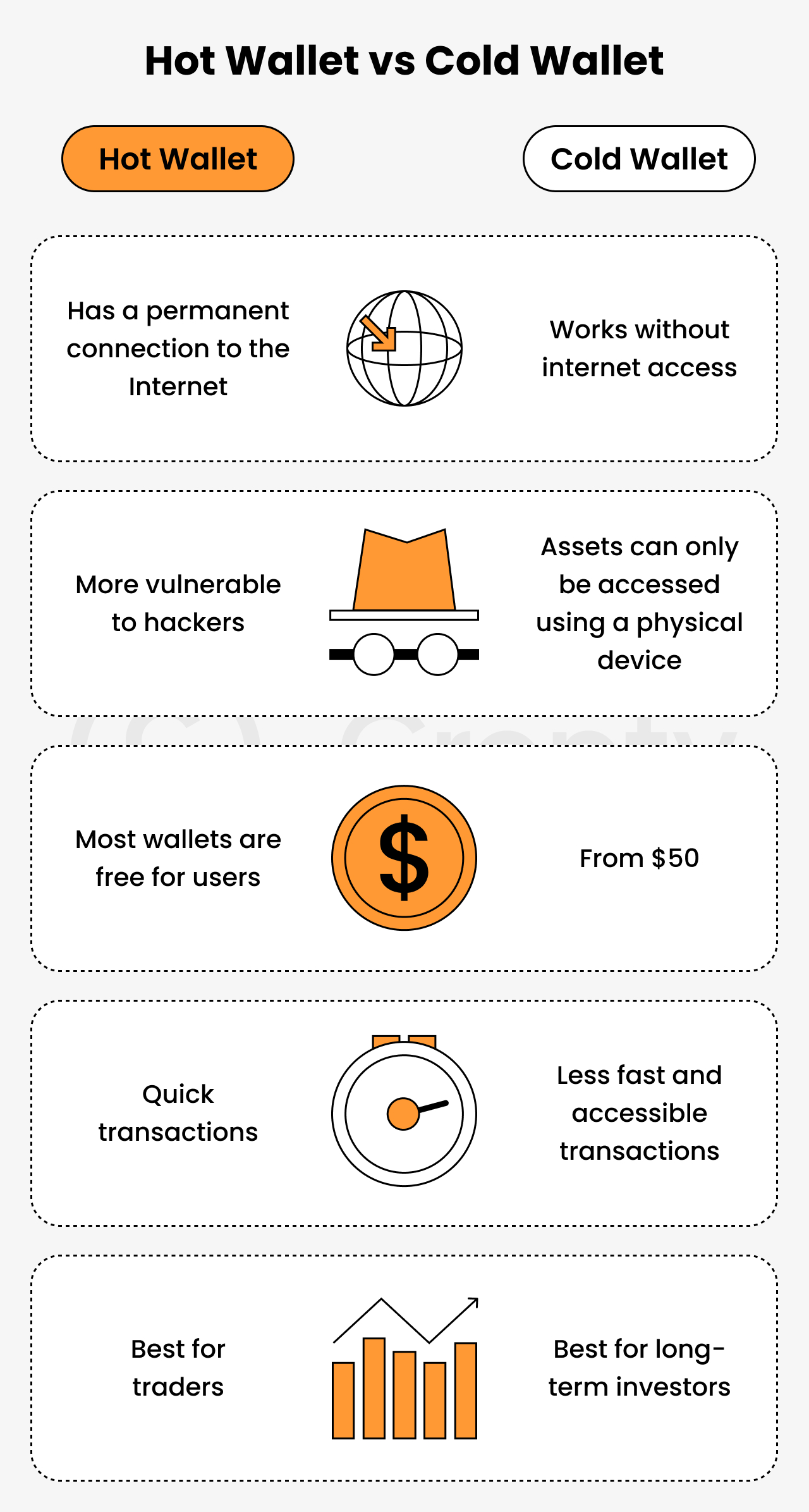 Final Verdict
In this article, we've broken down the 8 best bitcoin wallets of 2023. Based on the individual features and security methods of each wallet, you can choose a bitcoin wallet that suits your criteria. Always carefully study all the specifications and user reviews about the wallet you want, in order to avoid all sorts of force majeure.
It is important to understand that regardless of the purse you have chosen, be sure to follow all supported security methods, as well as securely keep all the keys to access your wallet. In conclusion we can say that we recommend you to diversify your funds in different types of wallets, to provide even more safety of your assets.
---
FAQ
What is the safest bitcoin wallet?
The safest bitcoin wallets are cold wallets, they are physical devices without internet access, thus invulnerable to hackers. Such wallets provide secure storage of public and private keys in the hardware device itself, to which only the owner has access. In addition, for limited access to the wallet, they support two-factor authentication, which only the owner has access to. One of the most secure and popular of these wallets is produced by Ledger, with an extensive lineup.
What is the best bitcoin wallet for iphone?
The best bitcoin wallet for IOS devices is Trust Wallet. It has an extensive functionality that covers all the needs of users. TrustWallet is one of the most secure hot wallets in the world, supporting an array of security methods and well protected from hacker attacks.
How to create a bitcoin wallet?
To create a bitcoin wallet you will need to find out which one meets your bitcoin usage requirements. For active wallet use you will need a hot wallet. To create one, you need to download an application on your computer or mobile device, and generate it following the instructions. For storing large amounts of money, you will use a cold wallet. To use it you need to buy a hardware device, you can order a wallet from the official website of companies that produce them. After that, follow the instructions to set it up.
What is the best bitcoin wallet for beginners?
The easiest to use bitcoin wallet is Exodus. It has a simple and intuitive interface for beginners and covers all the functionality of basic use.
Today's trending